Random Stuff
Wow !!!October went past in the blink of an eye!Before we know its going to be Christmas and then the New Year.God!! I really don't want to have time running so fast! (
It always seems like its running fast when we don't want it to and when we do want the time to move fast it never does.)
Loved peeking into one blog after another ,reading about their Halloween celebrations and looking at the pictures of the little ones in their costumes and the fun they had going on Trick or Treat!!!
Our Diwali was not as fun as we wanted it to be and we didn't have any fire crackers or lighted candles or diya on Diwali day but kind of made up for it all the next day visiting friends and having a wonderful time.Since Dh arrived the day after Diwali from India, we got to eat some traditional sweets from Bengal as well. The Kaju Barfi vanished clean from the box without a trace in about exactly five minutes.So did the Haldirams Soanpapadi.Its really hard to stop once you start eating them.As the Lays jingle goes.........."No one can eat just one"
Anyways here is a picture of my pumpkins in the traditional dress,not entirely coz they wore with jeans.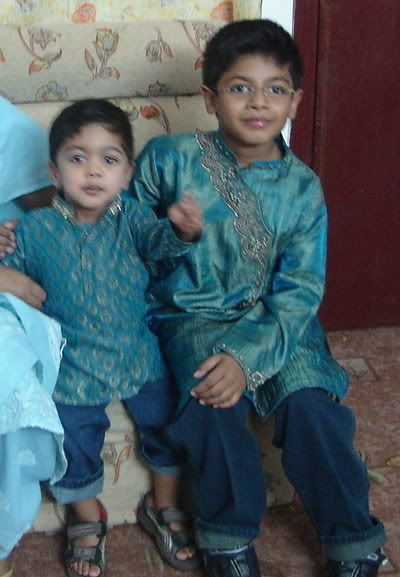 On the Hooks:
Diligently working on snowflakes every Monday ,has now resulted in 16 unblocked Snowflakes . Yay!!!Just four more to go to finish up this year's goal of 20 snowflakes.
One unblocked table runner is giving me the dirty looks from the shelf . Somehow I always have a block about Blocking and wish there was a Blocking fairy handy so I could dump all the stuff that needs to be blocked to her.Since that can happen only in my dreams,I will have to try motivate myself to get the blocking part out of the way and get done with my projects.
The sweater needs to be finished up too.Well , I started this sweater ages ago and now I have to finish it by all means orelse A, for whom, it was meant will outgrow and I will have to keep it aside till M grows up and can wear it.So I am working on it now.
My passenger project a stole called Pretty in Pink Stole is such an easy and pretty pattern .
You wonder what a passenger project is?Well its a project I carry around in the car to work on as we drive around here.
Having a passenger project( pp)helps me


to divert my attention from the road when those the terrible traffic jams happen.


to stop myself from getting worked up when a driver decides to cut across lane which happens quite often during the said traffic jams and when the cars move at the pace of a snail.Also when the cars are speeding on the Highway.


when someone decides to do the video game kind of car driving on the Highway........................I digress
On the Needles:
The garter Scarf is done.It was an oh so easy another passenger project(pp).I need to add tassles and the finishing touches would be done.
I like the seed stitch pattern a lot(
well thats the only pattern I know
:D ) that I think I will start another scarf pattern in the same pattern.
I think I need to make a list of things I want to make so that I stay focused instead of going gaga over every pretty pattern I see. I think I should keep thatlist for next year