Happy Birthday to Me!!!!
Thanks so much
Kel
for your wishes and your lovely surprise It arrived just in time!!!
I was so thrilled to see this mag that my jaw dropped open when I opened the package !!!!.I have always
drooled
longed
lusted
wanted
wondered how this mag would looked inside ever since I saw it on the net..Its so lovely.Its a treat to hold those glossy pages in your hands and browse the patterns in there, admiring everything over and over again..........I can't get enough of it.There are plenty of patterns that I want try out.Plus
Kel
also sent me some carefully picked out pattern slips ........ coz it had patterns I would definitely try too.........yea she knew ,( I have no idea ,how) I was bag crazy and included two bag patterns in there. I was so touched that she thought about the boys and sent them cute stickers too.My sticker crazy kids,snagged them even before I got to look properly at them and now those stickers are adorning their books and drawers.
Thank-you
Mimi
for your birthday wishes .
18th was my birthday folks and I had a blast!!! Cake,lots of fun and Pressies...........and the wishes from my on-line family even made it better :D
Dh being the wonderful person that he is ,made sure I had one of the best birthdays ever......in-fact He got me little surprise gifts for the whole week before my birthday and also a couple of days after the birthday...........no wonder I feel I like I am still in the early twenties.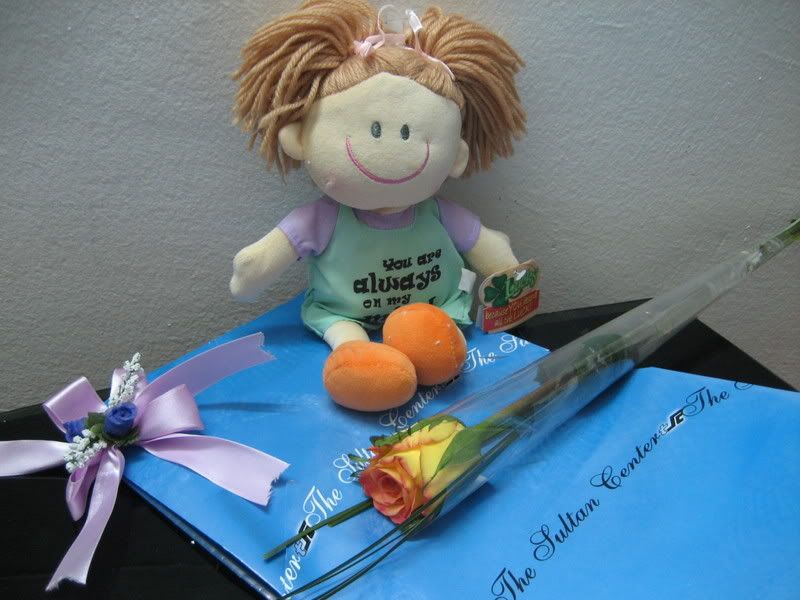 One of the many pressies he got.
Cute? the doggie had a *I love you sticker*but the Little imp tore it out to stick on his book..... you see those little hearts and bones,they are the yummiest hard candies that vanished as soon as they appeared!!!!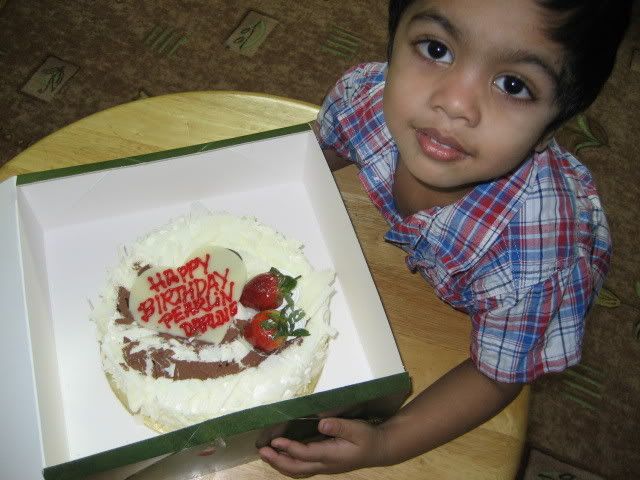 the cake was BIG surprise!!!
Apart from these I got some yarn and thread too. a pair of circular knitting needles,and one Bamboo needle.......No pictures yet.........maybe in a day or two.
Pongal, back home,the Tamil New Year and also the Tamil Harvest, was the reason for our Harvest Festival at Church .It was a holiday as it was the beginning of the New Haijra year here too.........since it came with the weekend,we got holidays for four days.
M discovered blowing bubbles for the first time at the festival......and boy was it fun!!!! We laughed and jumped around trying to blow the bubbles and catch them,ofcourse I got a few stares for my unladylike behaviour......but I think its ok, coz the expression on M's face was priceless!!
Yummy native food and pickles greeted us every-way we turned......needless to say we stuffed ourselves till we could eat no more and brought some more home too.
A did a song with his Sunday school Choir,which was lovely.The children were so full of energy and enthusiasm that they gave an awesome performance.There were also two other bands.One called Praise Ministrals.....a band of five men with terrific voices . Mindblowing performance which truth be told, I wanted to go on and on..... . Then there was a Father /sons band called Crossroads.All three boys aged 5 to 15 and they did a good job too with the instruments they played .
I still can't believe I forgot to take my
extended arm
camera to the Festival.