Our Christmas and New Year
New clothes,good food( Singapore Fried rice,Chilli chicken,Kadai Prawns,Nan and butter chicken, finished off with fruit salad with icecream.)holiday sweetmeat( coconut barfi,gulab jamun,and Macroons..Deneen's recipe),good friends ,carolers, cute gifts and all the stuff that make Christmas celebrations magical!!!Hubby took a day off and didn't keep getting calls all day,which was an added bonus.We made up for the lack of family around us by calling everyone back home and yaking our mouths off. Christmas 2006 was wonderful indeed!!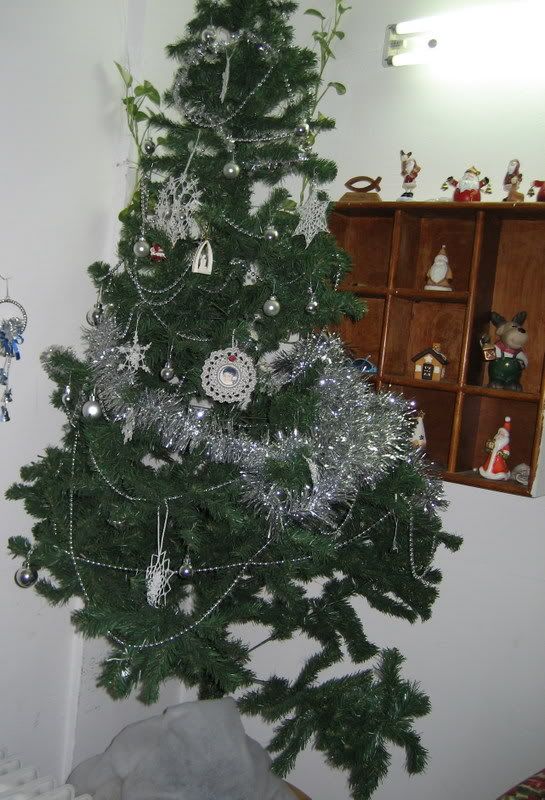 Our Christmas looks kind of bare ,towards the bottom, here coz once it was pulled down ,and then M plucked out all the ornaments one by one. I put it up a little higher than he could reach .The little imp then decided to pull up a chair near by and pluck out the ornis,so higher and higher they went until the tree was almost bare at the bottom.
What was great about this year was that Id and New Year came about at the same time.Hubby had four days holidays together,he usually gets just one day.There are others who get ten days holidays but we were happy with what we got .So,we made full use of the Holidays.I still can't understand how fast the days sped past.It was one of the best time we've had in a while.
We rung in the New Year with our family friends,who came over .We had Idly ,chicken curry , tandoori chicken,Veg pulav, and Carrot Halwa.Later in the morning we went to chruch .On our way back went to feed the Pigeons,to keep up the tradition of going somewhere after the NewYear's service.Later in the evening we went to see the Italian Circus that has come to town,its the best Circus we've seen so far.
I overcame my shyness to show it off and finally displayed it for Christmas after much persuation from dh.Its my version of a picture I found online ages ago.So what do you think?
My first oil on canvas.