Random things that happened this weekend
Friday ,we decided to drive around the city,listening to music in the climate controlled car :) Outside it was about 10 degree Celsius.While the children occupied themselves with their Hot-Wheels cars,we just enjoyed each other's company and the view that greeted us on the cold grey foggy morning .
the waterfront
I love watching this boat,soothes the mind when you look at it no?.See the fog on the horizon?
While we went shopping, I had some eye opening of sorts:there was this man at the checkout,his son
about eight or nine
or more was somewhere on the other end of the store with a cart
full
of things.
The Customer before him had paid up ,we stand in line right behind him,we have about exactly four things in our cart. This man ,blocks the way with both his hands stretched out! and stands right in the middle not letting us go to the checkout counter,since his son hasn't come to the checkout yet.Pretending to look for his son,he ignores everyone around him completely.
OK so, we move to the next counter and wait for our turn,his son still hasn't made it.He was blocking the way till his son came staggering puffing and huffing behind the cart. The little boy pushed everyone aside with his cart and got to his father.Everyone waited , fuming, but patiently behind them till they were done.Father and son walk off triumphantly having done a job very well totally oblivious to the looks they got!!! I was totally confounded by this behaviour? I have often allowed people with a couple of things to pay up and go in front of me.And I was totally flabergasted by the way this man behaved.Did he think he owned the store or something.Was he blind to the long line of people waiting politely for him to get done paying? It just is beyond me to comprehend.He wasn't the only one to who might have been in a hurry.And moreover i don't think , he would have liked it very much if someone did the same to him and would have definetly put up a fight.
Every-time I walk into an empty store,it gets crowded,exactly five minutes after I have entered it.The same thing happens with yarn too,when I fall in love with a particular yarn and go back to get it when I run out,all the yarn but the one I need is always there......but that is another story for another time.
So here I was in an empty store ,which has a sale on handbags
.Now this is a high end store and people are supposed to behave politely
As I am rummaging through the heap , as usual,five minutes later, the store is bursting at the seams with people now...........the ladies are jostling one another to reach in........I pick out a couple of bags I like and move out to a less crowded corner,not wanting to be part of the jostling crowd.
I am just about to pick the next one , cute silver clutch ,when this woman pushes her way near me as I am holding it in my hand,she plucks it out of my hand and says,"give me that bag" all too eagerly .My eyes wide open with surprise,I give her the bag and move on,ten seconds later,she asks me"oh you were gonna take that bag?","Its OK keep it" I say .Next second ,she throws it down,curious I look at the bag,there's no clasp on it!!! And I thought she was going to giving it back to me!! :P
So where has this sense of social etiqutte gone?Being polite is no longer in fashion?Did these people even realise they were stepping on someone's toes even if it meant for mundane grocery stuff and handbags!
I have usually met very polite people and these are just a couple of bad apples as they say, thatsprobally the reason why I feel so appalled at the way these people behaved.
Ok I am done all ranting and On to crochet stuff,still showing stuff from 2006
C
hange purse
Made this with the thread I got from our own
Mimi
.I used two threads,SCO26 size8 Cannon thread and size 10 Anchor Lifestyle Metallic thread Mx001.I love how the metallic thread jazzes up the purse......see the twinkle?
This cellphone cover is a take off from the above change purse pattern,made with the Cannon size 8 SCO26. The cover turned out slightly bigger for the cellphone but this is my first .I hope to improvise on it to fit my cellphone more perfectly.
I love this colour and its also very easy to work with this thread.Just a tad bit bigger than size 10. I used a 21/2mm Pony hook. I made about four small stuff with one ball of thread.


a change purse (picture above)


a bridal pouch,(the picture of the one I made was lost when my computer crashed earlier) so here's a bad picture I swiped off Jaishree's blog and cropped.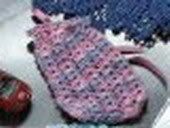 and two cell phone covers-one plain picture on flicker widget and one shells. I still have a little thread left perhaps to make a small flower or something.
More FO pictures later :)