Sweater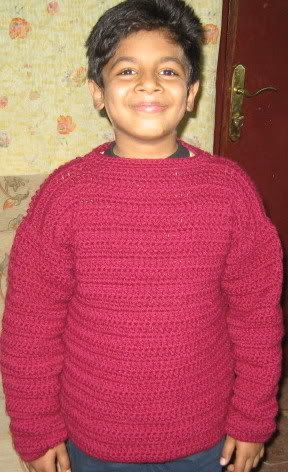 Sweater for A.Made with Magnum chunky light weight 70%acyrlic,30%wool blend yarnand a J Inox hook. I am really glad it fits him.Although the shoulders are drooping way up to the arm,I am proud they are the same length!
I think this will be the first and last sweater I will be ever making.This project kind of wore me out and I took ages to complete it.Half way through making this ,I ran out of yarn and almost after six months found the same yarn. what does it prove? that,I can get lucky once in a while!
Last year I made a
tiny list
and kind of suceeded .I wanted to make a blanket or afghan from a graph ,for some reason I am not able to start on it still. This year I'm not sure if I want to make one.
I will try and show the rest of the stuff I made in 2006 before this week is over and get on with this year's stuff.
I am now trying to make a list of things I want to make for this year.I am now looking into the few pattern books,patterns online and I am also looking out to see what everyone is making.Will finally decide this week.