Whatever happened!!!
Well,nothing serious!!!!Just little upper respiratory infection and drug induced zzzzzz slumber.I have been sleeping like a log these past days......and look!! another week has gone by!!!
I know, I promised pictures of all FOs from 2006,Its taking a lot of time to upload my files into photo-bucket so you guys will have to wait........just a little longer before I show off the other stuff.I promise.Meanwhile here are a few.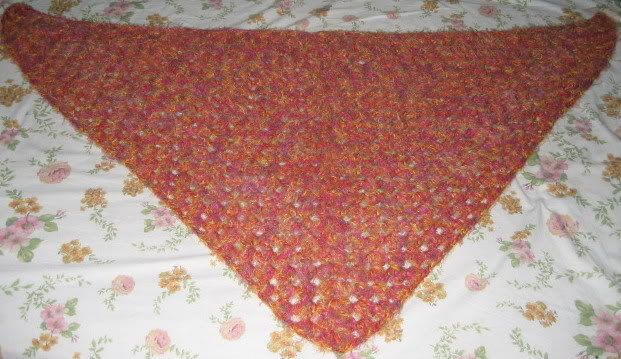 This pattern is from Groovy Crochet,that
Deneen
sent me a link of.Its the Joanns Angel Hair yarn in Berry that Shelle sent me.I ran out of yarn half way around Row 22 but still it covers my shoulders.This is going to be a gift for my SIL.This yarn is so soft and fuzzy .Most importantly not difficult to work with at all.I think that's probably ,because the pattern is quite simple. It does mat a bit if your hand sweats.Oh and I used a K hook.
Close up of stitches.
This is the Pink Lacy Stole
and my clumsy bedspread
from Free patterns .The yarn is a 30%Mohair 70% acrylic blend , called Orma Paris. I used a N hook that made this a quick passenger project. Half way through making this stole,I discovered I am allergic to Mohair yarn.Nevertheless,I loved the pattern ,(I have been having this pattern printed off for ages now hoping to find a good yarn to make it)and how quickly it worked up that I finished it up anyway.I specially loved the fringe used for this pattern.This is the first time I have used a fringe.
I fell so in love with this colour and yarn .It was so cheap compared to the other yarns that I binged and got quite a lot of this yarn in a gorgeous off-white colour also. I still have about four skeins left of this colour I used for the stole.Although this yarn looks very thin(lace-weight?) it feels incredibly warm.This stole is also for my SIL. I have no idea what to do with the rest of the yarn .
Finally the garter scarf I made .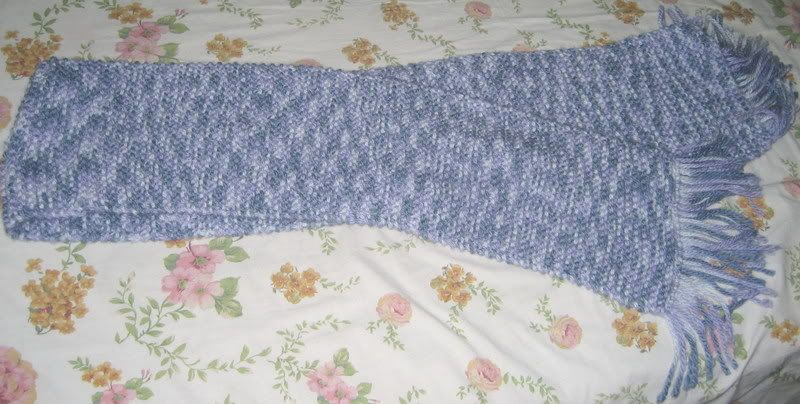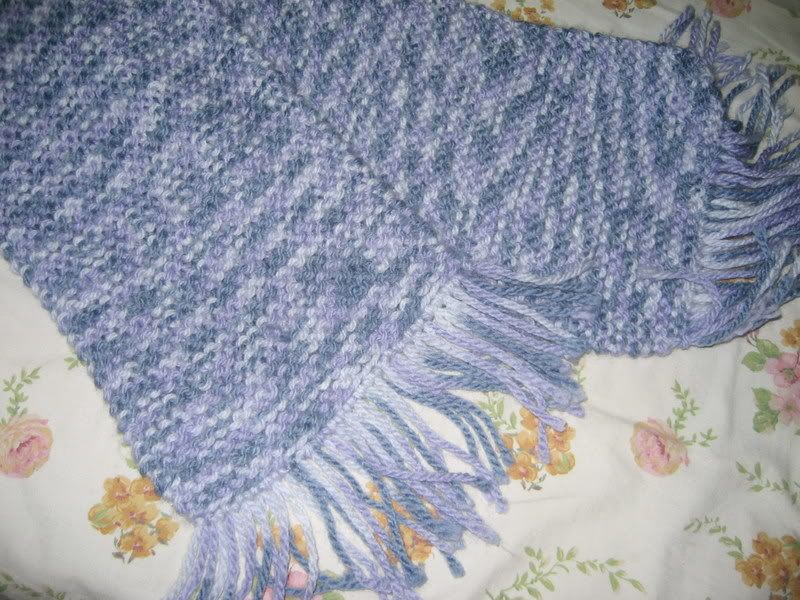 Made with the Magnum chunky light weight yarn 70%acryl 30%wool blend and 8mm Pony Needles.
That brings to mind, my Knitting class
woes
story.I've had enough of my Knitting Teacher's " just- gimme- the money- don't -expect- me- to teach -anything" attitude , I can really do without it this New year. So I am now going to embrace the Internet , the knitting blogs and Knitting help forums for support as I teach myself to knit. Right now my goal is to learn to make a scarf and a hat in rounds.I have my eyes on a lace shawl as an long term goal.Lets see how far I get to that.
I now have a
beginner ribbed scarf
on my needles
Meanwhile On my hooks, is my first Crochet project for the year 2007,called
Butterfly Shawl
....... in an array of Homespun yarns.I don't know the names since the skeins didn't have a wrapper on.
I've been wanting to make this Shawl ever since I saw Lisha's Shawl at Crochet India. Its been terribly cold here since December that I have gone on a Shawl making frenzy .It still hasn't stopped. I am keeping this one for me since its Homespun and the world knows I love Homespun!!!
ofcourse
until
the next yarny goodness comes along. shhhhhh .......that's just between you and me ok.
Then there's also a doily, on the hooks, to satiate my doily making craze.Size 30 thread,ecru with 1mm Susan Bates .
After I complete this I want to make the
Seraphina Shawl
.I wish I could get some of that Joann Boucle yarn,lets see if I can find some yarn soft enough to make another shawl.....which reminds me,.....last time I went to the yarn store,I was greeted with empty shelves!!!! imagine the horror!!!!Even if it was crappy acrylic, I loved looking at all the multicoloured yarns decorating the shelves.I honestly panicked !!!The shop owner told me they'd be bringing in better stuff and that's the reason they've cleared out the shelves.Lets hope for more yarny goodness this year..........and I am going to cry if I have to see more and more yarns on the net and not be able to get hold of some more.