Jackfruit memories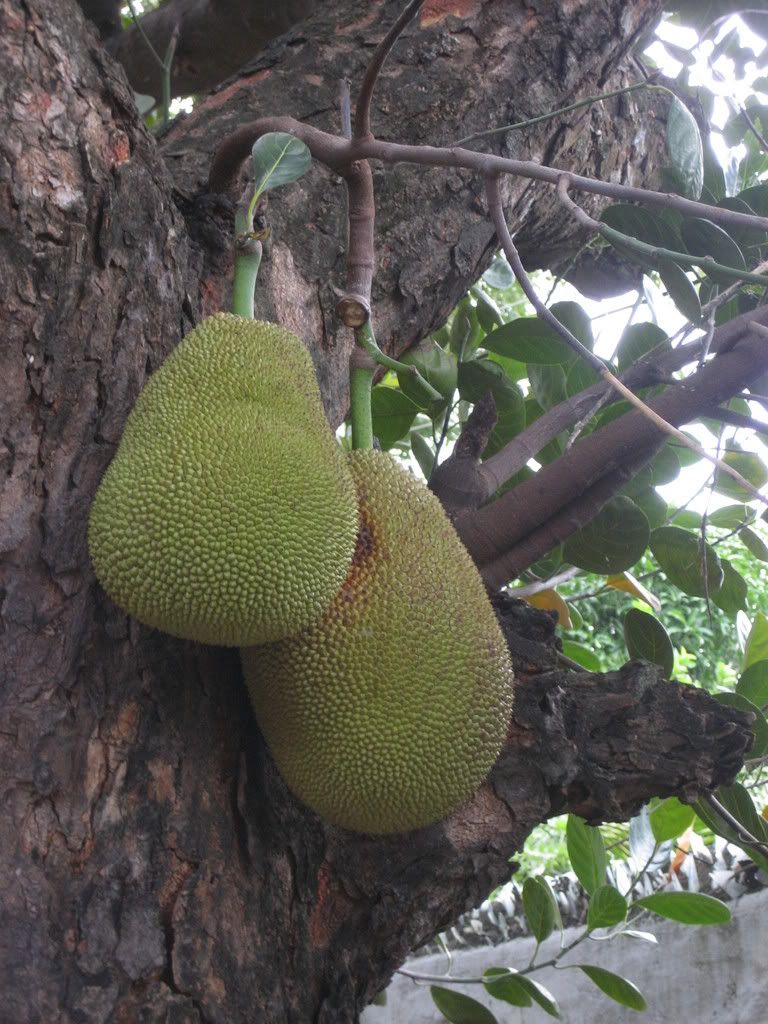 We call Jackfruit, Palaa pazham in Tamil: it is the second of the Mukkani (three auspicious fruits) , Ma,Palaa,Vazhai (Mango,Jack-fruit and Banana)It is important for people to present it to the Gods on Tamil New-years day April 14th.
Many childhood memories associated with Jackfruit come rushing to my mind .During summer holidays,my periappa (father's cousin brother)would bring cart loads of jackfruit and mangoes from our ancestral village.
That was a event in itself.Helpers would bustle up and down ,unloading the huge jackfruits to store them in the store room while we kids ran and jumped around excitedly, getting in their way!
I remember,sneaking into the dark store room that smelt like a fruit cocktail , to check if the fruit is ready to eat and sweet heady aroma the ripe Jackfruit would prevail all over the house. I would just stay there a little longer to inhale all the sweetness. At one point,it became so irresistible,we couldn't wait any longer.We'd pester our dad so much until he gave in and cut it for us ;my dad and periappa,(father's elder brother) would apply oil on their fingers and peel the large jackfruit.
We would gather around them in a circle, giggling and chattering, as to who is going to eat the most.We'd eat all those delicious honey sweet yellow bulbs for breakfast ,lunch and dinner .And get warned that we would end up with a stomach ache if we went at that rate
no, I don't remember ever ending up with stomachache,however I ate so much that my grandmom ended up calling me a pazha unni......Fruit Bat :)
Later we'd collect all the seeds and bug our grandmom to roast it in the verakadupu ( earthern stove ) for us.Often she 'd collect the seeds from us and add it to pulikulambu and Karuvattu kulambu or make poriyal with them.
Some like to soak the ripe jackfruit in honey and eat it and swear there is nothing compared to its taste. Although mom would make chakka vartti and chakka payasam so that the fruit doesn't go waste, I prefer to eat jackfruit fresh,the sweetness in really ripe fruits, is truly out of the world.