Not a skein,Not yet a Sweater!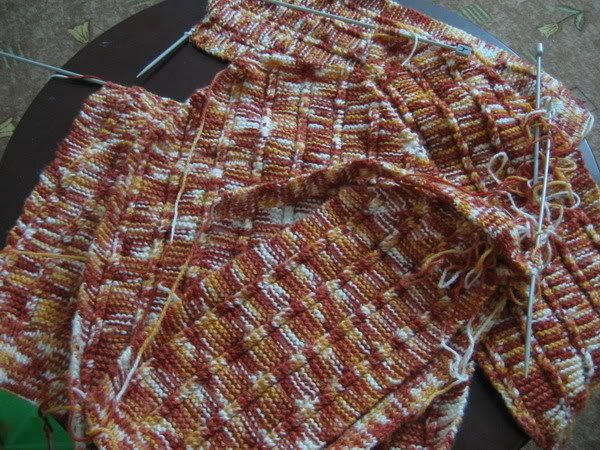 The sweater, which I've been working on for ages now!!I was supposed to show an FO here today, however,its still pieces of left front ,Right Front,sleeves, back etc :( I just have one sleeve to complete, And my teacher is leaving for good today!
She's been teaching me step by step,and I tried hard to complete this one before she left.Well, with so many things going on here,I couldn't finish in time. Now I am on my own to finish it.Ofcourse ,she did show me how to finish. I am just not that confident on my own,since it is my first big knit project and first knit sweater and all.
I want to get done with this and move on to other planned crochet projects,but this thing is taking for ever......
The Japanese Book from Mimi arrived today.It has got some cute bag patterns in it and also some bags with plastic canvas. All charts .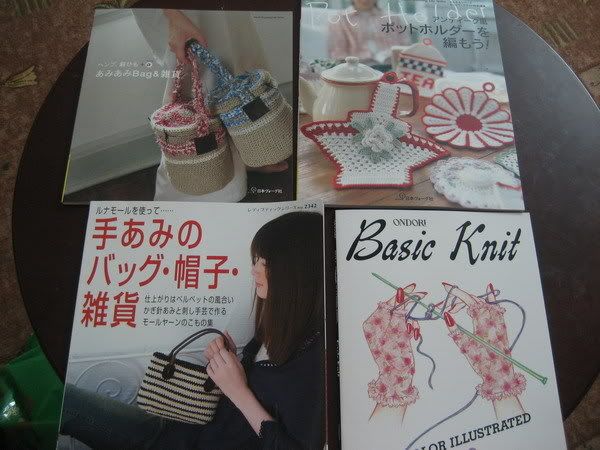 Meanwhile our craft store has been flooded with Japanese books lately,I picked up three books, Bags, Potholders and Basic Knit.
Basic Knit is in English,Bags and Potholders are in Japanese with charts.I loved the potholder book coz all patterns in the book call for size 10 thread. It has some adorable patterns :D
There were many more books I
lusted
wanted,but I was running short of time,so I asked the salesman there, to keep those aside for me that I can pick up leisurely.He happily obliged! If not for those obnoxious price tags, I'd buy the whole
store
set
and give my dh a mini heart attack for fear of going bankrupt!!
He thinks it is some sort of Karma from my previous birth, that I spend so much at that yarn store.Imo tho,it shouldn't be bad Karma coz I really really enjoy going to that store.He may or maynot agree ,still he indulges me .
Also my teacher who went on a trip to Dubai recently ,told me that she got some lovely American pattern crochet/Knit books at Bargain Books .
Not just that,she also told me of a place here ,called Commerical, where she got yarns,that looked exactly like
Catania,
its called
Nature
and is made in Thailand.And is priced lower too.
I honestly couldn't differentiate between the two yarns.Now I need to go and find this other place.She told me where it is located but we've not found it yet.
Most of the yarns that come here are supposed to come from UAE. So where is this Yarn resource in UAE?! the shopowners don't want to give in details for obvious reasons.
Something very unusual happened here yesterday.A little boy a year or two older than A,tried to steal A's bike. Well,A being the alert creature that he is ,immedietly found out,we chased him and got the bike back .He said something in Arabic that we couldn't understand and the strange thing was he didn't run away at all.Instead he went into the nearby Mechanic workshop and stood there like nothing hapened at all.And the guys in the Workshop swore he would not steal a bike and he was there all the time.
We did catch him red handed....... and let him go ,coz well, except A and me ,no one else saw him take the Bike.A couple of weeks back one of the kids in our building had their bike stolen from the corridor in the building. Don't know if the guys in the workshop are instigating this little guy to steal.
Our place is supposed to be very safe not anymore I guess.You know,it has happened once,it can happen again.