Muse Kindly Stopped for Me
It must have been all those drawstring bags I made in the past, this pattern just seemed to flow through my fingers!!! :) .I didn't need any pattern, and no hitches at all (gasp!!!)
Presenting my first ever Finished Object made without a pattern.
Ta... Da.... :D
Should be obvious by now, I LOVE shells and beads!!! I tried making two different patterns that I thought of, at the time.They, however, didn't meet my criteria for a bag, like for instance,I don't like a open lacy work around the base of the bag.You know , how annoying it can be, when things stick out from the bag or when they fall out through that lacy work on the bag.
Here's a close up of the stitches and the beads. Just a simple pattern but I am extremely proud of this one,coz its my own ;)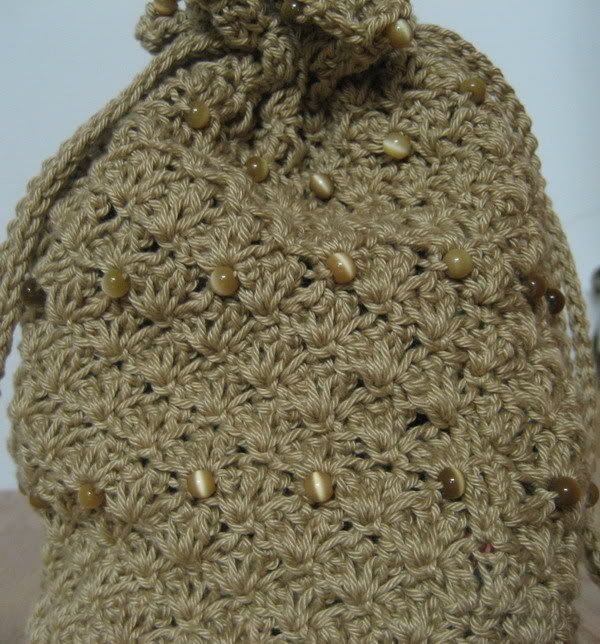 Its not lined and does-not have a strong base lined with cardboard or anything.
You think my mom will like it? All done on my to do list for mom.YAY!!!
The Materials List for Future Reference
Thread
:
Used a little less than two skeins of


Schachenmeyer Nomotto Catania


100% Cotton


Colour: fabre 0108 pie 5855
Hook
Beads
Used 2 tubes of
Close Beads (60 in each tube)
Colour :Art 30110.009 B-47346564
Pattern
: My own.
ah! the satisfaction of looking at those words!!!!
With my in-laws visiting us here and my India trip at hand; we've been going around shopping and sightseeing_ this terrible heat and even worse dust storm isn't helping any but we remain undeterred ;) _ I do-not have any other WIP except for that Ribbed scarf that I 've been working on and off ,since time immemorial........... sigh!!!
I do plan to come back with a vengeance,after my vacation .Lets see how things go then.