Now that I'm back....
I thought I'd first show the ribbed scarf I finished while I was in India,and something else...... ;) so without much ado,
my first the knit ribbed scarf.........
Although it took ages for me to get this scarf done,mainly because of the size of the yarn.I am glad I learnt a thing or two about ribbing with this scarf.I did make a couple of boo boos but I managed to fix it up, so it doesn't show in the scarf.Not bad for a first time eh?
I do have a couple more knit scarves done in garter stitch,one is with the eyelash yarn, and another with a yarn called Symphony also from Schachenmeyer.Right now I can't remember where I placed them.
read that ,too lazy to take it out , snap a shot and put it on the blog
.Moreover I didn't want to bore you guys with pictures of garter scarves with nothing special about it.
The Material list :
Yarn
:
Used about four skeins of


Schachenmeyer Nomotto Bravo


100% Acrylic


Colour: 8226 (farbe:8226 partie:64092)
Needles:


size 12 Straight knitting needles Pony
Pattern
: Is
here
.
Note to self: Never make a scarf with fingering weight or dk yarn, it will go on and on and on and on ..............forever !
And now for that special something...........no points for guessing right, coz I always get lucky when it comes to yarn...........no?!!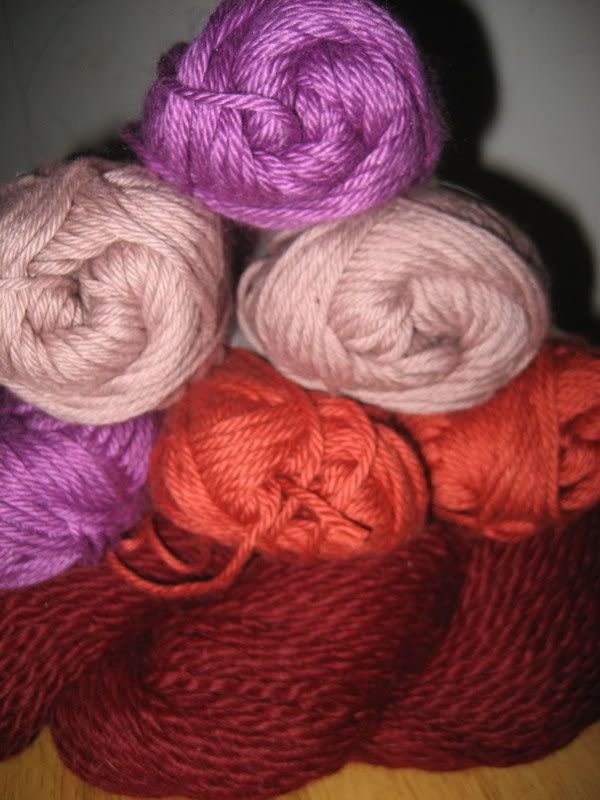 Admit it, you are turning green now, looking at that delicious yarn ;)
in the picture are ......
two skeins of Decadence 100% superfine Alpaca in Winter Berry,
two skeins of Shine Worsted 60% Pima cotton 40% Modal in Terra Cotta
two skeins of the same yarn in Crocus,
two skeins of Main Line 75% Pima cotton, 25% Merino Wool in Antique Rose
Now aren't you wondering how I got all these goodies?
Well, my Rescue Secret Pal's mission of rescuing me didn't stop yet............you thought it ended long back, yea I thought so too,
KnicKnac
, our swap co ordinator decided to spoil me one final time and asked me to choose the yarn I wanted .Needless to say , I was thrilled to bits to be able to choose yarn online and get it.
So I chose all these from Knit Picks and she got them for me and sent it to my brother and he brought them to India for me..........cool huh?!!!!. yea totally !!
Thanks so so much
Knic Knac
you made this Swap to be one of the Best Swaps I've been in.