Put another Candle on the Birthday Cake........
I'm another year old today ......ta ra rum pum pum......... Little M turned three on 18th!!!.From a teeny tiny 2.25 kg baby, born at thirty two weeks, its mind boggling how much my little baby has grown up to be this adorable little person in these three years!!!It truly is exciting to watch his personality unfold with each passing year.He is such a fun loving kid and an absolute delight to have around
except on days when we have tantrums and such
........ofcourse I am never biased when it comes to my kids..lol ;)
Last year he didn't know it was his birthday but this year, he knew what exactly he would do this birthday and has been singing the birthday song and talking about it all the time.Guess what gift he wanted?!! a bike with balancers as a birthday gift!!Well, he's getting it this weekend.
Both the sets of grand parents called and wished him'Happy Birthday'and he shrieked with delight when he heard their voices and shouted that it was his birthday into the phone.( I could tell he was missing them)We spent all morning looking at the e cards that his other uncles and aunts sent him.Needless to say , he just couldn't have enough of looking at those cute e cards .
When I brought out the cake , he couldn't stop giggling :)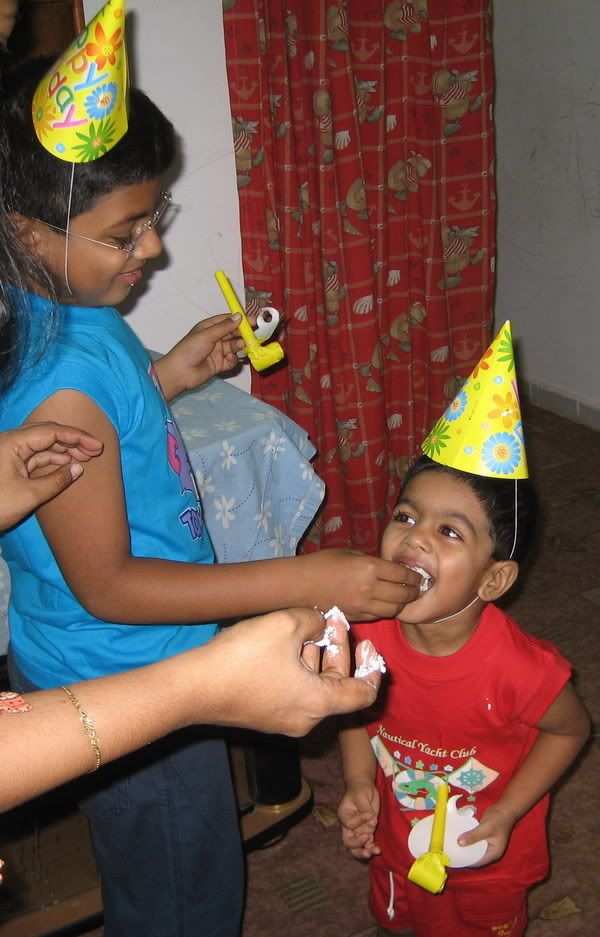 A anna is always his hero!This red t shirt is a gift from his patty.(dad's mom)
At home I made our usual celebratory meal of Vegetable Pulav, Chicken curry and Paal payasam which he very much enjoyed as it was not spicy at all.Sorry no picture coz it was gobbled up before I could take a neat picture :)
Later in the evening,we got him his favourite strawberry cream cake,invited our neighbour's daughters' who play with him everyday, to a little party.
We had tea and games and loads of fun.
Later we took them to their favourite game park
Both are in their traditional dress (gift from thathi ,my mom)as we took to him to get his third birthday potrait done on the way, and we ended our celebrations having dinner at a pizza place.Can u tell he had a wonderful day?!!!
Happy Birthday Sunshine............wish you all the happiness life has to offer!