Better Late than Never!
One  of the my oldest Wips is now done. Yippeee! :D
It was sometime last year I chanced upon
this pattern
when I googled for a shell purse pattern.Uncomplicated, easy and most importantly  it had shells ;)  just my style and I had to make it.I  bookmarked it and planned on making it sometime in the New Year.
When I started it ,I finished in about an hour or so.It was that easy and a no fuss pattern!
On the first attempt of this bag, turned out too big for my taste, I am the small cute purse kind of girl, so I frogged it all after I was completely done .Crazy?! I know!! :P
Just then, the
Crochetville CAL
happened ,I was excited and  even signed up .Lots of tips ,like making it the size you wanted , to make it as big or small as you want, amt of material needed for the lining etc.It was so fun and really inspiring to see so many different versions/colour combo/yarns  used ,of finished bags.
 I decided to make it smaller.I had the bulky yarn the pattern required.Now  the bag was done, but I was so  intimidated by the lining part, that without even attempting to try it,I put it off.  And couldn't get motivated to get done with it too.
Then
the Baby Round Ripple Blanket
  jumped into the frog pond never to see the light again.Thanks
Mimi
and
Kimberly
for your valuable comments.
Although I couldn't still figure out what went wrong, where ,I knew it wasn't supposed to be like it was turning out to be.
Kimberly
, who is also making the same blanket ( btw, her's is so pretty!)was having no problem with it.
I was  frustrated  I had to frog so much work, pulled out this bag with a vengence and finished lining it in another half an hour or so .
Now to think I kept putting it off for no reason at all!Makes me feel rather silly but hey! its done now and I can proudly say, I did the lining too .
If you still didn't quite get which Bag I am talking about , what else but the
Nordstrom Crochet Hobo Bag!

Now the specs for those interested
.


Yarn : King Cole Magum The Light weight Chunky(left over from the Sweater I made before)


 Shade :32 Dye 31204 Burgandy


Amount used: About two and a half skeins


Hook:H/8.5mm Boye U.S.A ; I/9,5.50 mm Boye U.S.A


Lining:Recycled an unused dupatta


Pattern:Nordstrom Hobo Bag


Modifications: Nothing really,I just made 9 shells, instead of the 11 shells in the pattern.The way to calculate the foundation chain can be found in the CAL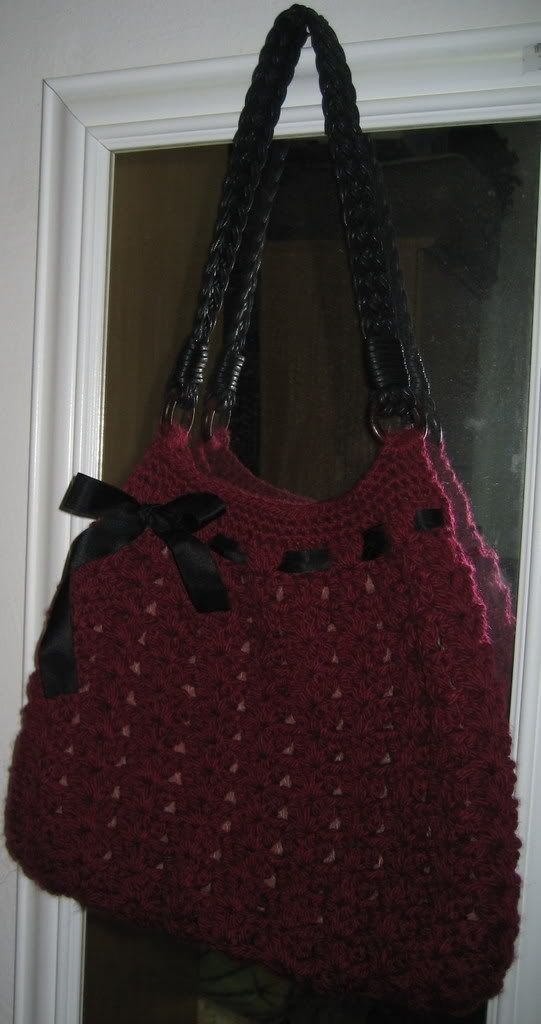 Check out the purse handle.I love it!It came in a pair  so I have one more left ,I already got the same  yarn in a different colour,  even another unused dupatta(shawl ). I am all set if I want to make another bag.
I may  make the next bag even smaller than this one and I want to try it in other  weights of yarn  too.
Like it?
Now I got to go and strike it off the list  of things I want to make this year.Speaking of which I am not sure I want to make  all of the things on the list now,mainly coz when I was in India, my dh forgot to back up my patterns files when he reformatted my computer.I lost all the links of patterns and patterns I had on my computer.Disappointed yes,very much, but I can't do much abt it .  So my things to make this year list may change. I 've decided to put that behind me coz I am giddy with happiness about something I do have.
A gift from my brother even tho' I asked for it.Did I say I am giddy with happiness?! :D