Fo s not my own
My neighbour's daughters aged 12 and 13, had been asking me to teach them crochet for a while.I wasn't too sure ,I 'd be able to teach with my level of patience these days.So I put it off saying I'd teach during the summer holidays.
So they went on their India trip, we went on ours and came back almost at the same time.And they held me to my promise......So I've started taking classes lately, free of charge of course!
I taught them the basics and before the end the day, they learnt it all. I decided to start with a
Coaster pattern
.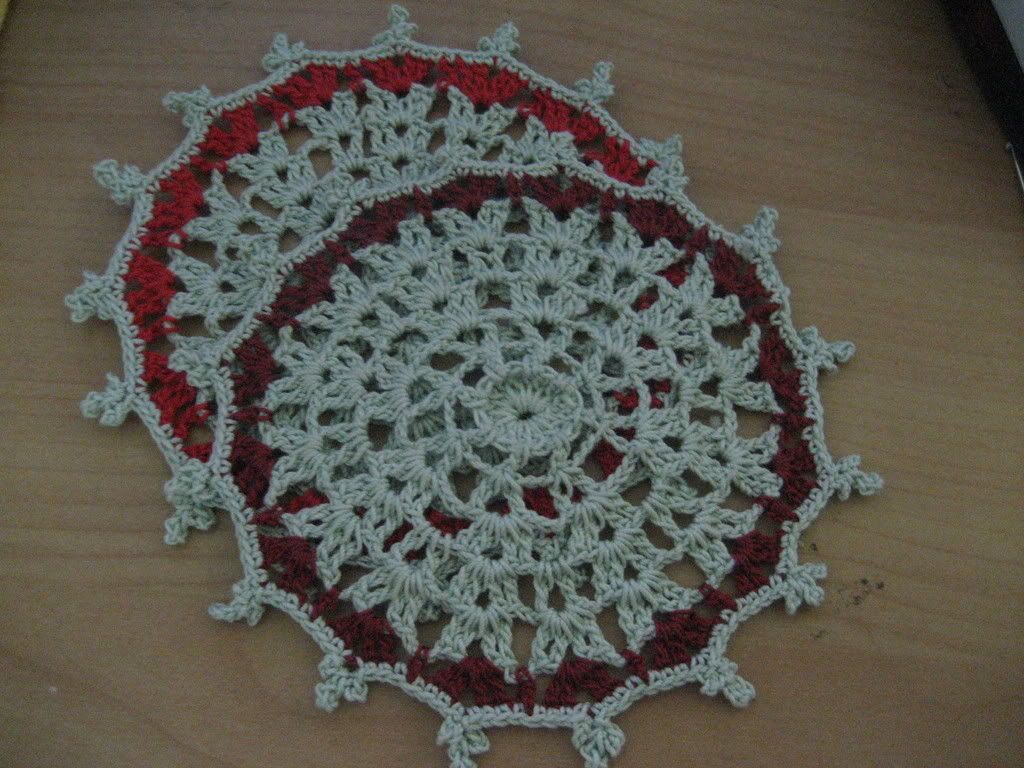 mine done with Babylo DMC thread, size 10 with a size 6 Milward steel hook.
And shells being my favourite,I had to teach them a pattern with shells in it :P
Choosing a small pattern ,kept their interest to learn intact ,I guess,
I think they did a wonderful job of it don't you think?
They were so excited to have an FO at the end of a week! I was really proud how they kept at it inspite of having to frog once in a while.
Infact I loved ,that they oohed and aaahed over my yarn and threads .I even let them pet the yarn and thread in evil hopes of rubbing off some of my YAS , TAS and PAS on to them :P
Now I am thinking of starting
this pattern
for them .
In other news,M is going to school cheerfully .Except for the tears on the first day after school, and some more today , coz Big brother isn't going to school with him too, he has settled in quiet well.
When the Van comes to pick him up in the morning, he says Good Morning to the Driver, shows a thums up to him ; a sign, showing he is friends with the Driver, and waves bye to me cheerfully when the van leaves
When in the afternoon , we go out to recieve him, he does a repeat in the reverse order: bye and thumbs up to the Driver and all the kids in the bus,jumps on to me and showers me with hugs and kisses :)
He is so excited to practise the letter strokes.....too enthusiastic in fact, I just have to mention homework,he would pull his little chair and table near me and start saying " Go Up and Go Down".He has to write just one half page,but just doesn't want to stop.....goes about writing three or four pages at a stretch and asks for more. I hope the fascination doesn't wear off with time :)