Kuttansadham (Mixed Vegetable Rice)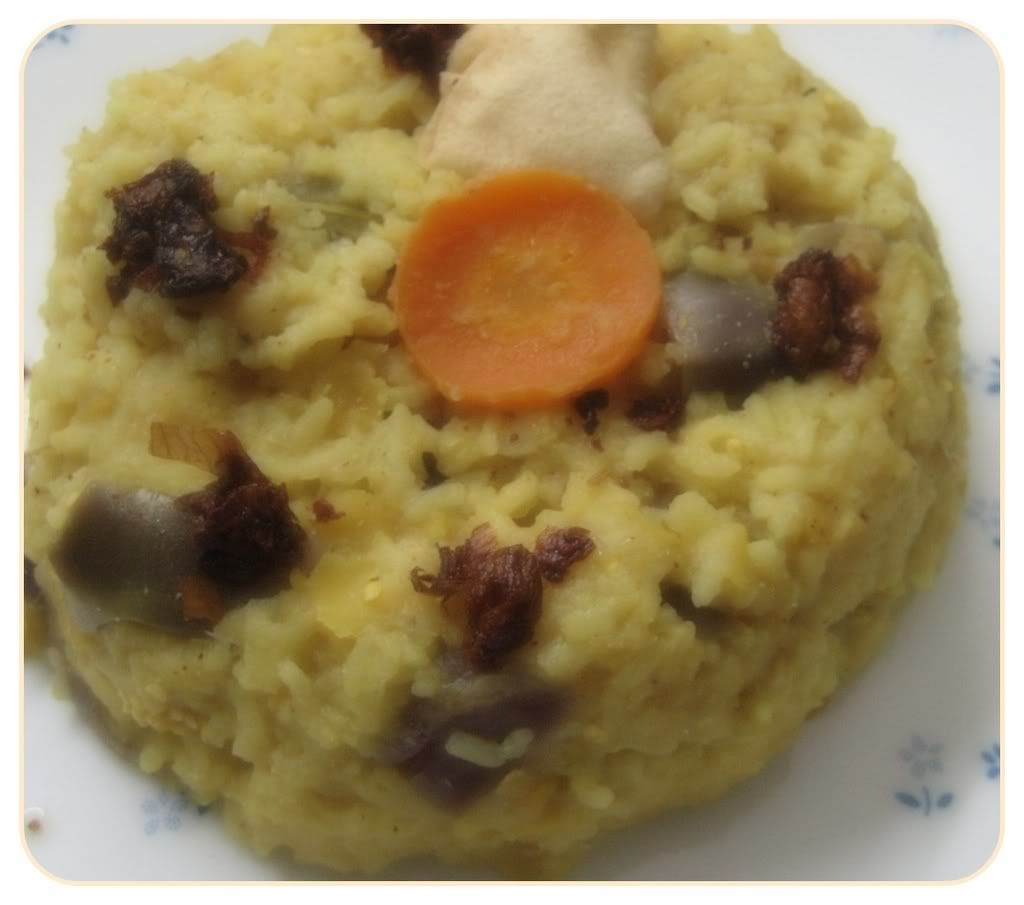 All I can think of when I make Kuttansadham, is the fun we had as kids_ my cousins and my neighbours ' kids_trying to cook. We'd plead and plead with our moms to give us the ingredients .
There was a kitchen outside the house, with an earthen stove ,we made the fire with paper and twigs and a little bit of kerosene that we got after pleading some more. We didn't handle pressure cookers back then. We simply used small pots to cook ,we used to play with .We ground the ingredients to be ground on the ammi kal... (the flat grinding stone with a large rolling pin like device on top) We'd scurry back and forth like little mouse to the main kitchen carrying water , salt and whatever else we could lay our hands on!
The sense of community we felt ,as all of us kids put together all our stuff we'd wheedled off from each of our parents, cooked and shared our food _truly priceless!
The laughter and giggles still ring in my ears and I cannot but feel a tug in my heart when I see how much my kids miss out on the simple pleasures we had as kids.How times have changed!
Anyways,here's the easy , one dish meal recipe, that I make when I 'm in a hurry to get done with cooking :)
Ingredients:
1 cup rice
1/4 cup toor dhal
1/2 cup mixed vegetables chopped ( 2 brinjal. 1 drumstick,1 carrot, 1 potato)
10 shallots
Tamarind the size of a lime
1/2 tsp turmeric powder.
salt to taste.
To grind:
2 cloves garlic
4 dry red chillis
1/2 tsp cumin seeds
2 small pieces coconut
Preparation:
Soak rice and toor dhal in water.Grind the ingredients given for grinding to a fine paste.Soak tamarind in one cup of water and squeeze out the juice.
Method:
Put the rice, dhal, vegetables, shallots,turmeric, ground paste, the tamarind juice,and 3 cups of water.When the steam comes place the weight ,reduce the flame and cook for 15 mins.When done, temper with mustard.Serve with onion vadam and appalam.