Baby Stuff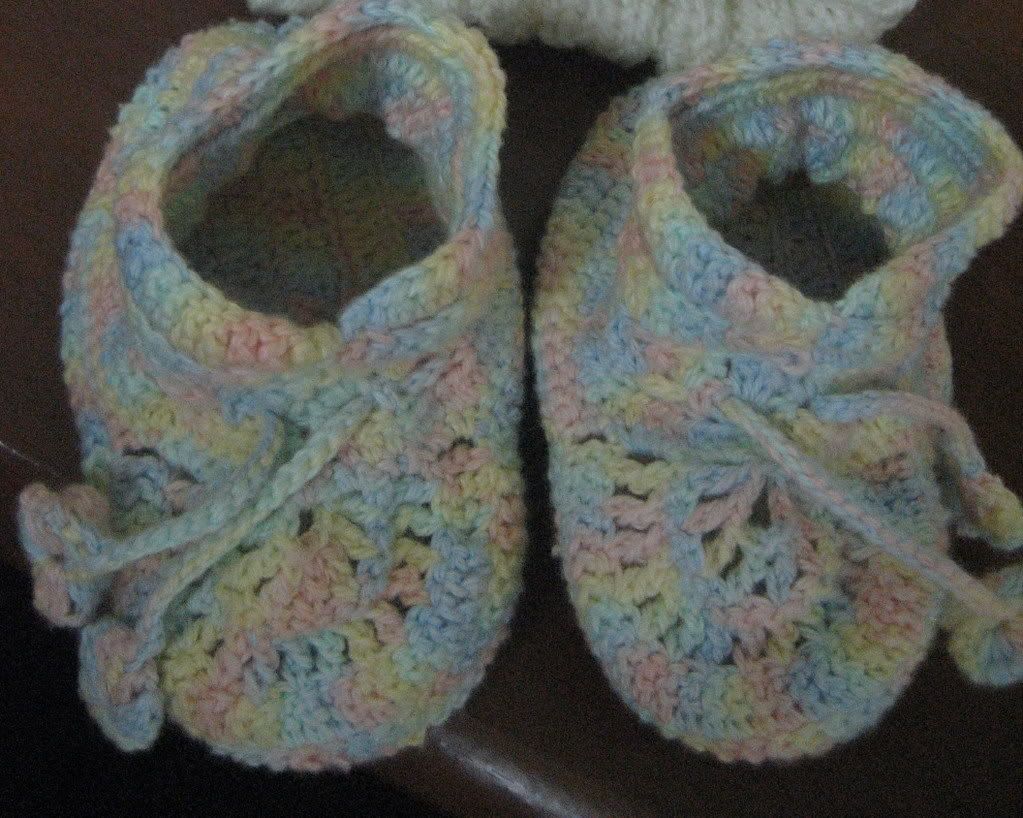 Cute?
Mimi's Baby Booties
Thread : Anchor Lifestyles ( 100% COTTON) KAM03 372406 65-BRZ
Hook : 1.75 mm Jimra
Pattern :
Mimi Baby Booties
This is my second bootie from the same pattern,the earlier one ,
I made with yarn
.I made this the new born size .I'm so thrilled the gauge is spot on ! The pattern didnot have the instructions for the ties in it.I made these ties, looking at ones in the picture :) Not bad huh?
Like Mimi told me before, these threads are soft and ideal for babies.True.I loved working with it too.I also loved this colourway.
Another first for me on the knitting front! Ribbed Baby Hat
Yarn
: King Cole Big Value Baby Dk in shade 45 Dye 28030
Needles
: Size 4 Pony straight needles
Pattern:
Ribbed Baby Hat
(scroll down
)
It turned out to be preemie size although it is intended for a new born.I am planning make another one.However I am excited that it turned out pretty neat for my first attempt. Don't you think?!
I think I have finally located the perfect Baby Blanket pattern for the Bernat Baby Coordinates yarn I have.I worked a bit and really liked it ,as it is a no hole pattern.The yarn looks nice too in the pattern .I am kind of particular that the pattern should show off the pearly white thread that runs through it.
I am also working on a charted doily that we are doing as a group projects in one of our groups.I chose the wrong thread and its hurting my fingers a lot.Which is why its taking so long to complete.
Lately I have been hurting myself a lot. I bumped into the door and hurt my knee really bad .Don't ask me how! I can barely walk straight.Then I shut a drawer over my thumb and tore some skin just below the cuticle. I also have a catch on my neck,I can't turn around without wincing in pain. I look almost like a wounded solider, with a bandage on my thumb, my elbow, I scraped it somewhere and one wound around my knee.
All because of me being sleep deprived, since dh went on this business trip and kids missed him so much. Especially M was extremely hard to handle.He woke up in the middle of the night and demanded I take him to the other home his dad has gone to. He just refused to go back to bed and no amount of cajoling worked.He fell asleep around dawn and later got up a little later and started another tantrum.
Now that DH back -I'm back to blogging and all is well in Paradise!