No more ribbing...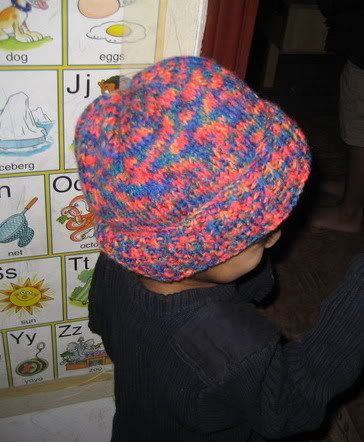 The hat I started sometime back
is now done. I started without a pattern and get didn't know what to do when it came to descrease part.So I incorporated what I did for the ribbed baby hat.End result, there is tiny visible hole right in the middle on the crown!!I think I could make a pompom and cover up the hole .
its a simple basic hat,rib st as wide as you want and then st st till it is high enough.then decrease.So the result you see turned out to a slightly bigger for M.Anyways he was happy to wear it.
Project Details:
Yarn :
King Cole's Ziggy Shade 401 dye 29228
80% Premium Acrylic 20% super soft Nylon.
Needle:
4 mm pony straights
pattern:
Made up along the way, referred to the Bev's baby Hat
What I like about this project :
I like the way the st st has come neatly(even if I say so myself!)
What I disliked about the project:
the groping in the dark without a proper pattern.
Anyhoo ,its done and M is still too little to point out the boo boos and actually wears it .Shall we say, alls well that ends well then!
Dh is abroad again , this time to the US. and even though we should be used to this travel by now, we are not.M is really missing his dad and has problems sleeping.
Yesterday night, he couldn't sleep and kept bugging A ,who was feeling unually sleepy .M was giggling and A was complaining, really whiny. Finally I lost it and yelled to M to just shut up and go to sleep. To which M yelled back "Ok!! goodnight !!ding dong bell! "
Lucky they didn't see me in the dark, break out into a wide grin ,trying to control myself from laughing .