Andhra Pesarat and Chutney
I don't remember where I got this recipe from.I 've had this recipe in my Recipe book, which is a collection of recipes I have collected over a long period.It is supposed to be very hot and spicy. My kids have low tolerance for spiciness so, my version is not hot at all and may not be the authentic one .
This recipe has now received the kid's stamp of approval for everyday dinner tiffin in our household ;) Suits me fine as it is a healthy , easy to make .
Ingredients:
1 cup Green Gram(
pacha payaru
)
1 small green chilli (cut into half)
1/2 inch piece ginger
Salt to taste
1 onion (chopped finely )
1/2 green chilli (chopped finely)
1/2 inch ginger (chopped finely)
1/2 tsp cumin seeds
.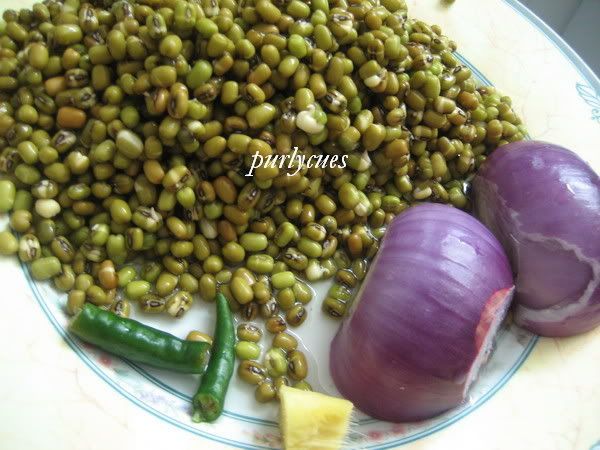 Soak green gram for five hours,.Wash well and grind to a fine paste adding one half of the green chilli and ginger.Add salt to taste .In a kadai,pour a little oil, add cumin seeds,finely chopped onion ,the chilli and ginger,Saute till the onion turned to pink.Mix it with the batter.
Pour one spoonful of the batter on the hot dosa pan. Spread it on ,wait for a while till one side is done.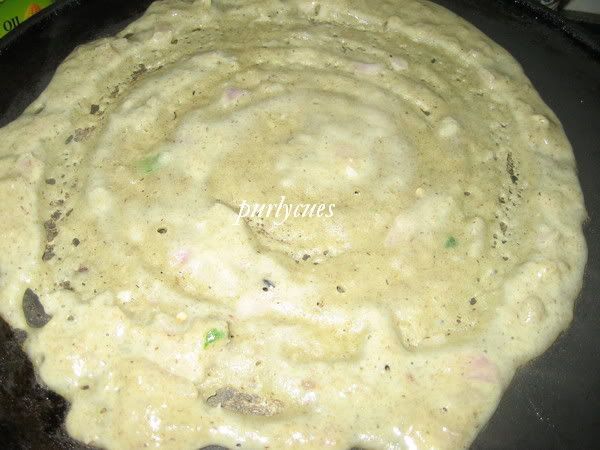 I could have spread it better, nut this is all I could manage :P
Drizzle oil around the dosa.Turn over.Let it get cooked well . When done,serve hot with Chutney.
Chutney for Pesarat:
Ingredients :
2 red chillies
1inch ginger
2 big Slices Coconut
Salt to taste
Tamarind size of a small lime
For tempering:
1/2 tsp mustard seeds
1/2 tsp black gram(
ulunthamparupu
)
a little oil
Pour oil in a tempering pan, Slightly saute,red chilies,chopped ginger,urad dhal,for a minute.Grind all the ingredients in the mixie.Temper with mustard seeds and serve.