Happy New Year
Hope you all had a wonderful Christmas and New Year Celebrations.
Ours was clouded-with sadness. I lost my dear Uncle, on 17th Dec. . We knew, he didn't have a long time, however it always gets hard when you have to face reality.
Like most men from his time, he was a family elder that we kids, were too scared to approach.I always knew my Uncle was a warm person but never really got close to him as I was to my other late Uncle.
My relationship with my uncle took a new turn , when he planned our house and took care of every minute detail while we were building our house. I put aside my reserved nature and got more open and then I saw what I had been missing.
Towards the end, he would send me funny emails almost every other day and even had sent me one email on the day that he passed away. It was so hard not to be able to go and say our final goodbye to him.
Its never easy to come to terms with the loss of a dear one , but it specially gets tough when it turns out to be a bad dream come true.I always wish I never knew that a dear one is passing away.But I always have these dreams that come true_ which it depresses me to no end.
Not just that, I just knew the last time I met him , that it was the last time I was seeing him, and so hugged a little longer and kissed him goodbye.I think he knew it too, coz he had tears in eyes as well.
How I wish I had called him and talked to him earlier instead of waiting till Christmas to call him and talk to him. Just to think that I won't be able to meet him next year when I go home makes me regret so many things I did not do ,to show him what a special Uncle he was to me.
I totally couldn't pull myself up and do the Christmas tree and decorations .(My mom( its her older bro) had told me specially that we should all celebrate, as God had been so merciful to give my Uncle the opportunity to see my cousin get married while he was living ,getting his book of poetry published, and for keeping him alive for so long ,for the peaceful death he had)still ,it was so so hard to do up the house and get into the festive spirit.
The children couldn't understand why we did not have a Christmas tree and tinsel and all the magical lighting for Christmas only at our home while the rest of their friends homes were bursting at the seams with decorations; especially M , who kept getting cross with me for not putting up the tree.Now I wish I had done it up at least for him , coz it is one year lost without Christmas memories for him . Would have been alright if he had understood what was going on.Next year he would be another year older and not the same as this year.......ok I am thinking /blabbering too much.
Having the children at home helped more than I could have imagined.Talking with folks back home and hearing that my Uncle had a very peaceful death as opposed to a very painful slow death, the emails were all a huge comfort too. It is at these times you wish you lived closer home instead of being so far away. I am very grateful for the support system we have as a family,the huge blessing his life was to all of us and for the belief that we will all meet one day again.
I decided to pull myself out of my depression and to try out new recipes just to keep myself from sinking further into a drepressed mood and spoiling it all for the kids.
I made Macaroons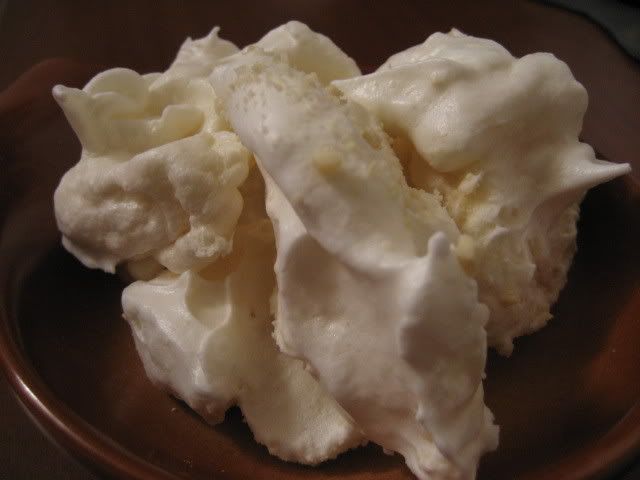 and I was so proud they came out picture perfect,
Viji's Gulab Jamun* from scratch, never dreamt in my wildest dreams I would do that.But it is a wonderful simple recipe with clear instructions, that you cannot just go wrong anywhere.And also fish Biriyani*.(* forgot to take pictures)
I knitted , finished up my quilt and tatted a little , ofcourse, crocheted too.
I try not to keep thinking about the loss and keep myself occupied with other things.Its working some days it isn't on other days, but I am feeling so much better now.
Wishing the New Year will bring rich blessings to all my Blog friends. Happy New Year.