Stash Busting
Too many of these fancy yarns were lying around in my yarn basket desperately trying to catch my attention.I honestly, had no idea what to do with them.After all, they were single skeins of very different yarns.
First I thought I would make skiny scarves with them for the neices, but the yardage was so little, that wasn't a good idea. Then I thought maybe a little bag, the idea didn't appeal much either
I decided a hat for M, would be the best idea......the guy really loves hats.Turned out, the yarn didn't have enough yardage for a hat.So back into the yarn basket it went.Then a lightbulb went on, it would make a nice border for a hat .Kept putting it off until I saw
Deneen's Winter Hat for Elena
. After seeing her hat (its so pretty), I just had to make this hat I had on my mind .
I used a simple basic hat pattern and added a row of the fancy yarn to break in the monotony of working with the same colour.The fact is, I couldn't wait till I reached the border to find out how it looked :)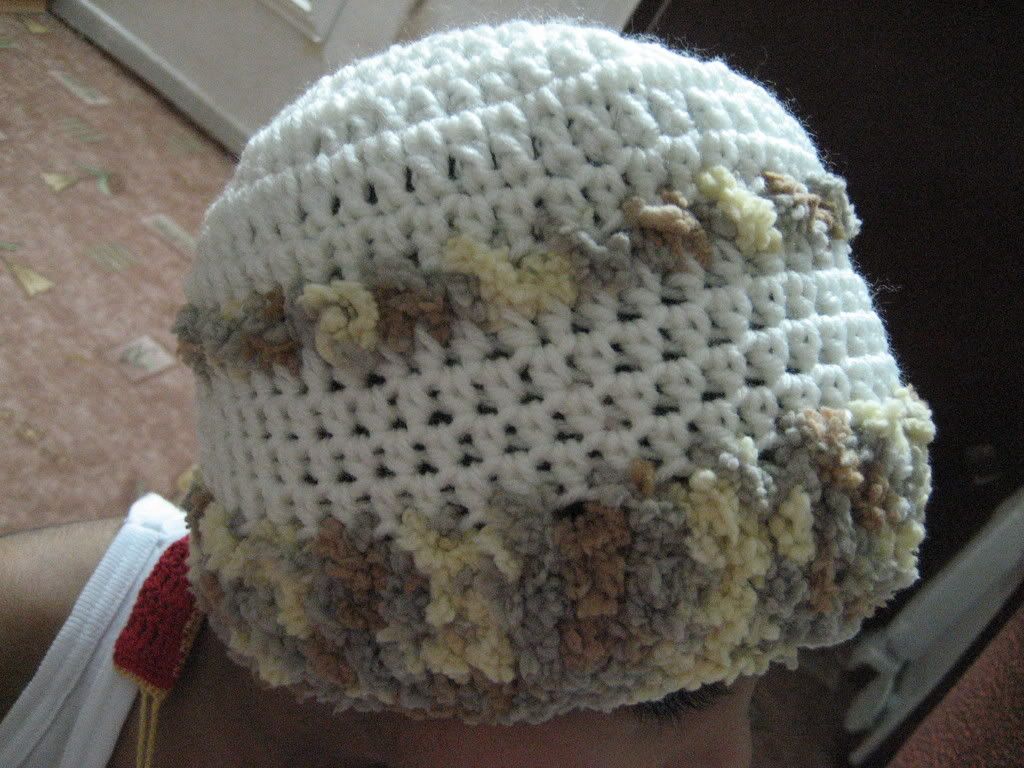 The project Details
:
Yarn:
The cream yarn is some nameless yarn I got in an ROAK.its really soft baby yarn
The border yarn is
Schachenmayer nomoto Hip Hop
100% polymide (Colour 008 ,lot 1700) [25 g 25 m yardage]
Hook:
H Susan Bates
Pattern:
Basic Hat pattern , I now know this pattern by heart that I didn't need a printed version to follow .
TheHipHop yarn is really soft and the border covers the ears really well and keeps it warm.Very appropriate for the cold weather here. I still have a couple more hats I made with two other fancy yarn but havn't taken a picture yet
Just thinking out loud :
Lord God I am so tired of this winter _this someone is always sick household _ please bring on the sunny months as soon as possible
.
I am so ready for summer.