Tat Memoirs
Long back , when I was a little girl of about nine or ten, we went on a family trip to a rubber estate on the side of a forest to spend our summer vacation.There, we met the wife of the forest ranger by chance and she took us to her cottage right in the middle of the jungle.
Inside the cottage ,the furniture was mostly rattan,but very tastefully decorated with hand embroidered cushions, crocheted chair backs and tatted tablecloths, handmade curtains, hand painted pictures adorned the wall. To my young mind,the little home looked like it was taken straight out of a fairy tale book!!!! frills and laces and beads ......it became my dream home!!!! .(although rt now , my home is anything but laces and frills :D )
I remember my mom and my aunts going ga ga over all the lace on display.Thats when they saw the tatted table cloth , asked what it was and she proceeded to give a little demo on how to tat.She gave each of them a little shuttle.I don't think my mom learnt how to tat, but she brought back the shuttle with her and still has it in her sewing box. I donot know if she still remembers, but I do ,coz I was so fascinated by all the hand made beauty I saw in every nook at that home.
Well I have ever since wanted to tat, but the powers that be have this penchant for spoiling all my attempts at trying to learn a new art.So , as usual, either I couldn't find a teacher or when I did, I couldn't go!
When I came here , and with not much to do , taught myself to crochet, and partly to knit . Tried to teach myself to Tat , with no success.Then I learnt of this wonderful place where there was a Tatting workshop too. I bugged all that I could get hold of, to ask when it was starting, when it did start, you guessed it, I couldn't go!!
Lot of organizing, some tear works (yea , yea, I can be a baby and a difficult one at that too ,if I want to :P ) later,I did manage to go after all.And the teacher was very kind to postpone the class so I could attend.Sweet.
The workshop consisted of two ,three hour classes, held over a period of two weeks.
First it seemed like it was very hard getting the knots and I couldn't get the stitch knots at all.Then the teacher, told us that tatting was a 'Dance of the fingers' and showed us how (btw, she has beautiful fingers that when she showed us how, looked indeed like a dance of the fingers and I forgot to breathe for a few seconds at how fast she was !)after which it seemed easy.And I got the knots right. You know what, I was the only one, of the two students that got it right. Yay!!
I really couldn't put the shuttle down after i came back home and kept at it .Next class, I was the only one in class.Lots of personal attention!!
However, the class didn't go like I thought it would.
While I was at the workshop, I got that
dreadful Phone call
,and I was caught between wanting to go back home and not knowing what to do, since my teacher had put aside all her appointments for this workshop.
Earlier she had stated that having a workshop for just one person wasn't worth her time and here she was doing exactly that for me.It just didn't feel right to go. Always taught to put duty before emotions, I decided to stay on . And the secret reason was I didn't want to go home and stay alone too.
So I decided to stay back at the workshop and the teacher took it upon herself to distract me and taught me the rest of the things while she talked about her own loss and tried to make me feel better in every possible way.Extremely sweet again.
It just felt nice to hear someone talk and not think about what happened. Especially when I could not get hold of dh on the phone and ask him to come back home to be with me.
What happened after the phone call is a blur and though I went through the motions of learning, I really did not know what I was doing .After returning back from the workshop, I never practised .It took a while before I could touch the shuttle without getting into some sort of a sinking feeling.
However ,when I decided to see if I still remembered something from the workshop, I was surprised I did!! She had taught me well :)
I still have a loooooong way to go . I am glad I 've made a start and now whatever I make out of it depends entirely on how much I practice.I am still trying to get the stitches right.
This is what we did on the first day of the workshop.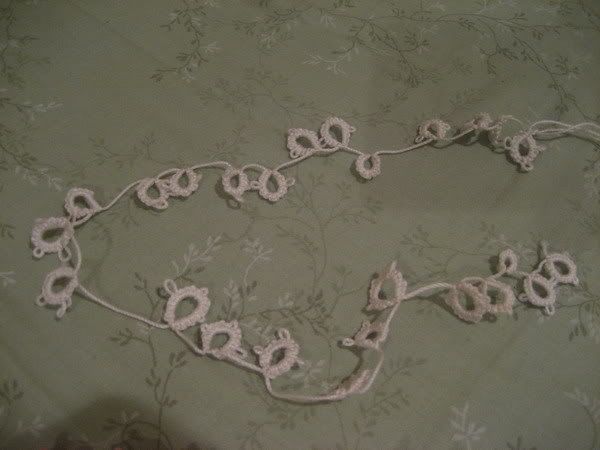 Second day of the workshop, I brought this back with me.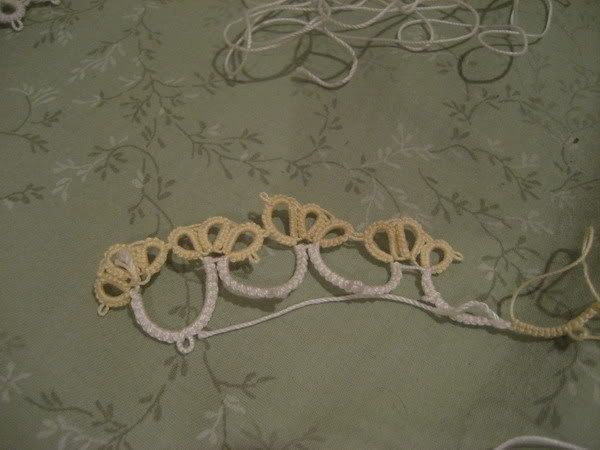 And these are what I made to practise.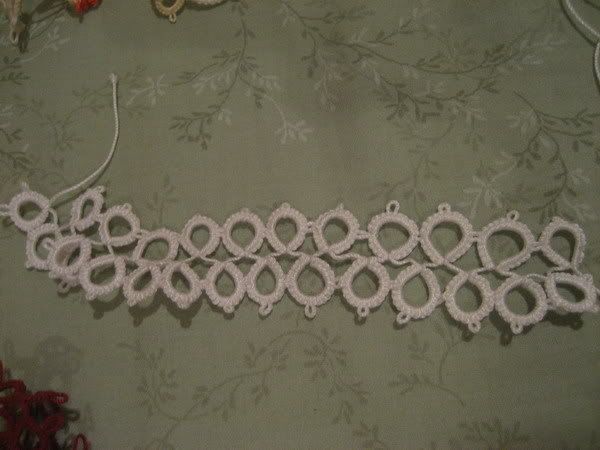 White can get boring after a while and varigated thread to the rescue. Love how the colours unfold and bring variety to the simple pattern.
When I was going through my Needle &Thread Mag, there was a tutorial on how to make this motif.Since I didnot find instructions how to finish the motif, it is very clumsily finished.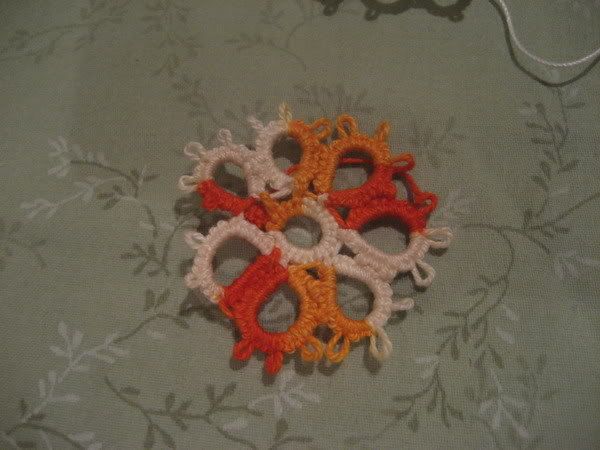 This is the latest string of lace I am making......
Some improvement huh?
Those who came looking for crochet stuff, please don't go away stomping like Rumpelstiltskin, some crochet show and tell is on it way :)