The Latest off my hook
A lot of crocheting has been happening but, I need a blocking , weaving in finishing off Fairy .Please send her this way as soon as you get hold of her .ok?
While I am waiting for her to arrive, I decided to make this potholder that didn't need any blocking or had too many weaving in ,just so I'd have something crocheted to show.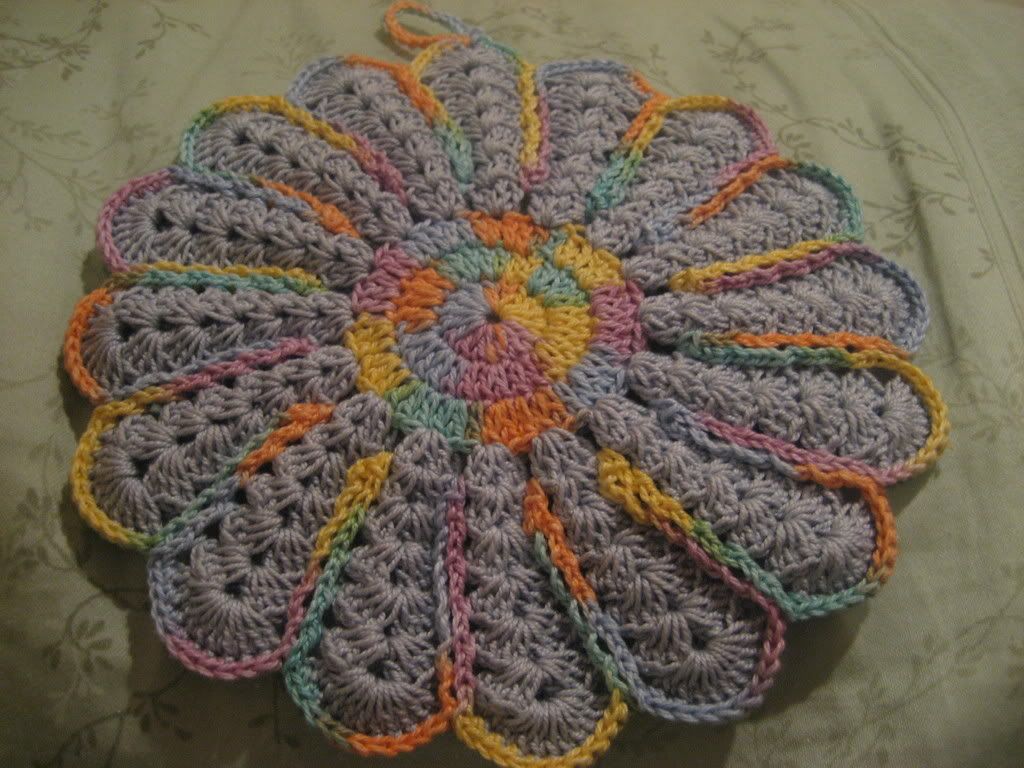 Another Close Up
Project Details
Pattern :
Potholders Japanese Book.
Thread:
I used the thread that
Marvie
sent me
for centre.And the Varigated thread is
Anchor Lifestyle Thread I bought from Mimi
KAM15, I think.
(M took off the thread wrapper.His way of getting back at me is hiding my stuff here and there
:evil:
)
Hook:
1.75 mm
A nice quick project , it has shells in it !so whats there not to love?.
This book is really great
and I have so many patterns I want to make from it.
It has a cute chicken, those adorable dresses and bloomers and also a scotty pattern in it which made me think of
VIKand her Molly
. :)
Being used to the Ondori Japanese books with its charts and instructions in English it takes a while to get used to the instructions in Japanese. But you can figure out most of the stuff with help the charts. Its no big deal.
Another potholder that I found on a blog as a vintage pattern is also there.Will update the link, once I remember where I saw it.
The only thing I wished when making this potholder was , that we get the sugar and cream type cotton yarns more here. With Sugar and Cream or Bernat Cotton, this would be perfect.
Thread actually makes it look small.I should have used two or three strands of thread held together.
I personally like the cotton yarn instead of using several strands of thread held together.
In other news, I've got my computer back which is great , but my internet is still flaky,I've been reading all the blogs but for some reason havn't been able to comment. Sorry about that.Will do so as soon as I can :)
The quilt as you go quilt
is coming out nicely too.Sitting on the floor and cutting is so comfortable .The thing that I need to do asap, is to figure out a way to make the excited imp I have , sit and watch instead of jumping across my rotary cutter holding hands on the floor.
The bad nanny story I heard over the weekend has disturbed me so much that I've lost sleep and am going around with a headache that won't go away.Its specially hard when you know the baby right from the time it was concieved .
finally flowers from a flower show we went to some time back.
I wonder if 'A host of golden daffodils', looked like this????.There must have been more, no?
Of all the different colours of roses , this one looked so perfect.
And did you know?When the sun goes down, they actually switch off the Sun switch and switch on the Moon switch?. Yup , that is what happens up there in the sky !!
Who would be doing that, you wonder?
Why? God ofcourse, what else would He be doing UP there? Except Playing with switches!!!!