Homestyle Noodles
When growing up in my maternal grandmom's home, I often used to drift off in class,trying to think of what mummy patty( thats what I called her, ) would have made special for evening tiffin.Everyday she would have some delicious dish waiting for us after school .Our school was quite near our home and we always raced back home as soon as school got over just so we could get back home as fast and taste patty's mouthwatering dishes..The racing back home and being greeted with yummy food is still one of my fondest childhood memories.
My grandmom passed away too early, when I was in my eighth grade .When she went to my aunt's home for vacation never to return, she wrote all her trademark recipes in a notebook for my mom.While rummaging through some of my mom's stuff, I chanced upon this book and pleaded with my mom to let me have it. She only agreed to lend it to me so that I could copy some of patty's recipes and gave it back to her.
This was one recipe I found in the notebook .Every time I make it my boys relish it a lot.Its another family favourite.
Ingredients: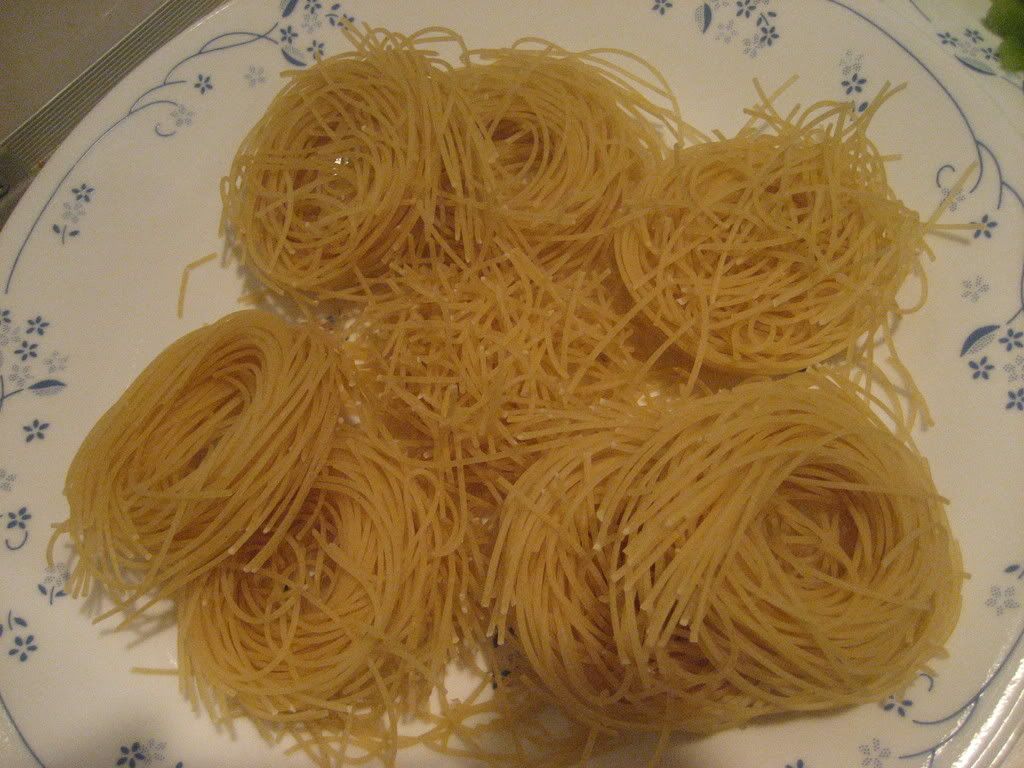 1 cup Vermicili (Break them into small pieces)
a handful carrot , beans , cabbage capsicum( all Finely chopped) peas
1 medium sized tomato coarsly chopped
2 big onions finely chopped
150 gm minced meat (approx)
1 tsp ginger /garlic paste
4 red chilies
2 green chillies
1 tsp curry powder
1/4 tsp chilli powder
1/2 tsp turmeric powder
1/4 tsp cumin powder
Method:
Boil vermicili in plenty of water with salt.When cooked, strain , run over cold water and keep aside to drain completely.
In a pan, heat oil, add whole chillies ,Onion and ginger garlic paste,.Saute till golden.Add the carrot , peas, beans , cabbage , saute for a few mins till vegetables are slightly cooked.Add the powders.Mix well.Add Minced meat.Saute tll brown
.
Add the tomato and capsicum.Mix well till tomatoes blend in. Now add the vermicili.
Mix well. Sprinkle coriander leaves and serve.
Cookbook Scribbles:
fried prawns, Bamboo shoots, babycorn,scrambled eggs can also be added if you like .
the dry powders can be adjusted according to taste. no hard rules .