Onion Thokku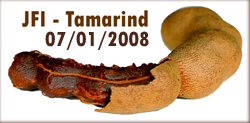 This is a very simple recipe that my mom makes often in summer when we all like to eat palayasadam.(old rice)
Palayasadam mixed with curd,and this thooku as a side dish ,along with mangoes, is truly out of the world.
Ingredients :
1 big onion (chopped)
3 green chillies (chopped)
3/4 tsp tamarind paste
1/4 cup water
Oil for tempering
1/4 tsp mustard seeds
Curry leaves
Method:
Mix the tamarind paste in water .Keep aside.
In a kadai, pour a little oil, and season with mustard seeds, curry leaves.When the mustard seeds splutter, add the onion and chopped chillies .Saute till the onion turns light pink in colour. Pour in the tamarind water and allow to boil, till thick . Serve with curd rice.
This is my entry for the
JFI July- Jihva for Tamarind hosted by Sig of Live to Eat
Originally started by
Indira of Mahanadi.