I've got Cable
Didn't you think I wasn't knitting anymore? din't ya ?din't ya?
See what i've been working on!!!
Ta da!
the picture above shows the true colour of the yarn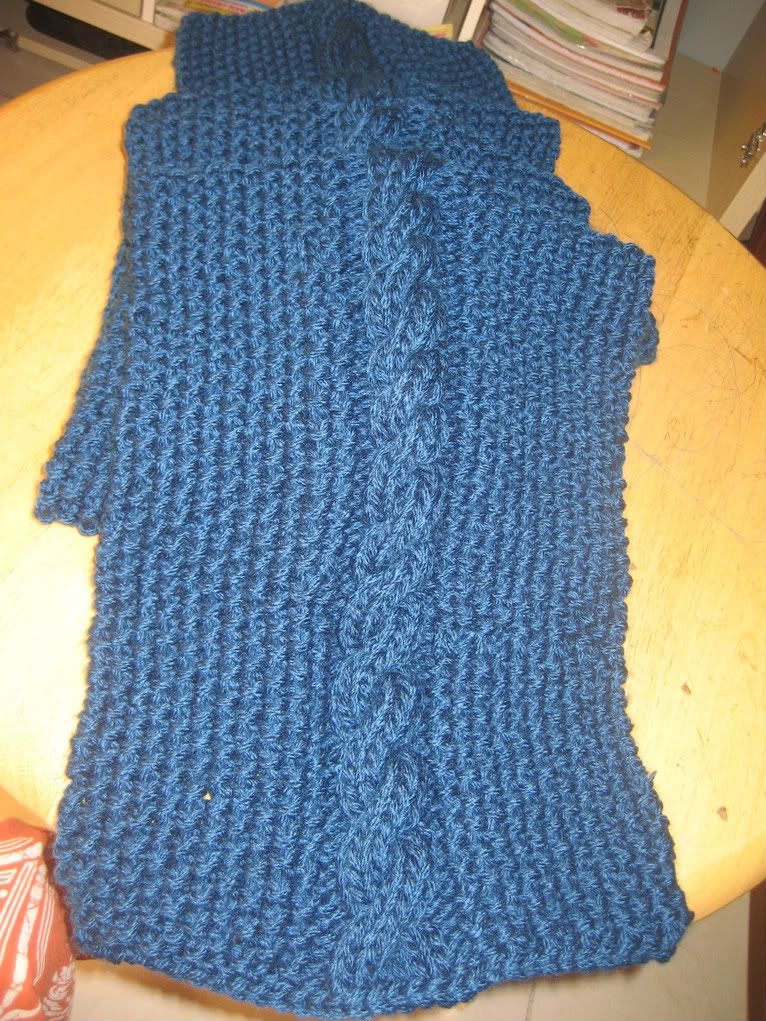 Some time back
when I was chatting with
Swapna
, I asked her how to make cables and she pointed me to some instruction links and to
this pattern
.I practised on a local acrylic yarn first.
Saw this yarn called Aero at the yarn store ,The wrapper said Light as Air, Warm as wool.decided to try the pattern on it.
I thought it would be perfect for dh .He loves all shades of blue and doesn't like to wear heavy winter clothes at all during winter.
I happen to love this particular shade.(is it peacock blue?)
Project Details:
Yarn:
King Cole Aero 80% acrylic 20% wool Shade 435 Dye 35769
I used five skeins of yarn.It is only 86 yards / 76 mts
Next time I will check the yardage before I get the skein, coz one skein cost quite a bit.
Needles
: 8mm Pony Straights ( the recommended needle size is 10mm US 15)
also pony cable needle.
Did not want to use the recommended needle as I thought it would turn out too big.
Pattern
:
Alpaca Scarf
Love this pattern.Easy to follow too.
The yarn is soft and nice to feel.I enjoyed working with it.I would love to make a stole or something with it for me if it wasn't so expensive. I may get a couple of skeins more to make a matching hat to complete the set for dh.
The finished Scarf is not that heavy and is quite warm too.Will know only in the winter how warm it can be.Most importantly, Dh loves it .Yay! :)
In other news,
Remember
this
and
this
, they are back to skeins now.
I do not like looking at Unfinished Objects . I had only a little more to complete for the sweater ,but trouble came in the form of picking up stitches and wasn't patient enough to make it work.
May be I should only stick to making scarves? 8O
As for the bag , I came across a very similar looking bag browsing the net . Now I did not say my bag was entirely original and all but I was kind of disappointed. I looked and looked at my bag and did not like it anymore .Plus I have not used it at all too .So decided to reclaim the yarn for some other nice project like
this one.
I want to finish up my
FBB
that 's languishing in my work basket. Have no inclination to pull it out tho......blow some Finishing dust this way please.
btw, this is my first post using the post schedule thing on Wordpress. cool feature !