Peaches and Cream Halter top
I've got my computer back.I still have my bookmarks on line and some patterns/pictures on picasa web albums so that is
some
comfort.
This halter top has been on my to do list for about an year now. Finally I worked up the courage to start it Was truly surprised at how fast the pattern went and how easy it really was. Somehow if a pattern has shells in it , then I finish off the project the same day I start it.
I had only two skeins of this yarn and am pleased as a peach that I used up the the two skeins without even a tiny bit of scrap.Of course I was scarred I would run out of yarn and not be able to find more at the yarn store. If I ever find more of these yarns again here, I am going to grab all that is there in the store. I enjoyed working with it so much.It has such a nice drape and is also soft to feel.
Front
I crocheted instead of sewing the top part to the skirt part as told in the pattern.Also added a five dc shell for the front, not just the sides.
Back
The colour is true in the pictures.
Now that I have made this top, the idea of a baby dress doesn't seem so intimidating anymore. Ialready have a project and potential Guinea pigs in mind ;)
As soon as this top was done, I tried it on M and it fit him so well,He loved it and was more than willing to model it for me.I didn't coz dh would kill me if I made M model it ! :D He says my mil ( his mom) scarred him permanently making him model the dresses she sewed. I can understand her plight very well tho'.What is she to do in an all boy household ?! Being the youngest and
the cutest
(ahem), he was the obvious choice!!
all these girly clothes are sooooo irresistible , Especially for moms of only boys :P
Project Details :Yarn :
2 skeins Schachenmayr nomotto Punto Color 55% cotton 45% acrylic colour 89 lot 10427
Hook:
G /6 4.25 mm Boye
Pattern
:
Peaches and Cream Halter Top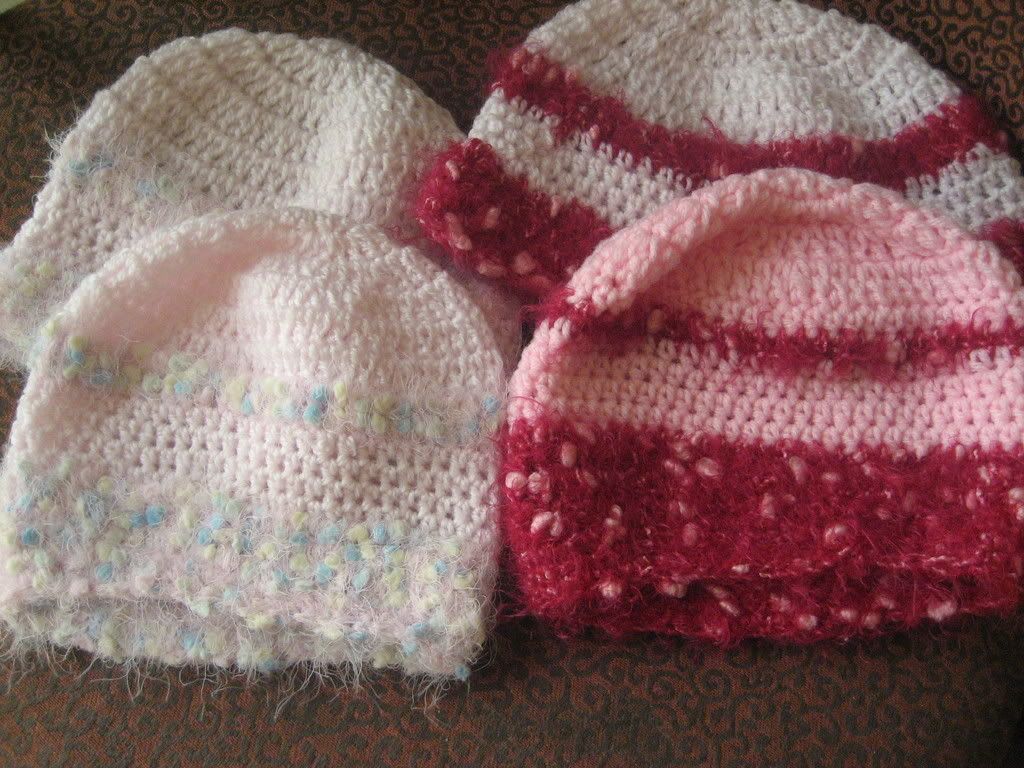 I made these caps long back in an attempt to use up all the fancy yarns I had, forgot that I even made them in house shifting confusion. I only found them now trying to rearrange my craft closet .So here is a picture.
The dark pink(magenta) fancy yarn is Joann Angel Hair Roak from Shelle and the light pink similar looking yarn is called Exotique from King Cole , which I got here.Will update the yarn details when I find the wrapers .
I had an acquaintance visit me the other day and as we were talking ,she was using a lot of 'North India , South India N.E.India etc 'in the conversation
As long as people are nice and genuine, where they come from is no big deal but not so for other people I guess.But thats not the point, M who was listening to all this , waited till this person went away ,then came and asked me in a totally bewildered tone at not being aware of such an important fact and the injustice I had done in keeping him in the dark, "Mumma how many Indias are there? " I thought there was just one India, didnot know there were so many Indias!" :D