Q for quilt!
With the children being home for the Eid Holidays,and the weather cooling down, we've been doing a lot of fun stuff, thank God for the lovely group of people we've met in our building!.
We took advantage of an offer that the Entertainment City was giving and had a just moms and kids night out .We chatted our hearts out while the kids went for the several rides there.Later we spread out our picnic baskets and had a scrumptious dinner.Fun times!
I 've finally finished my Quilt as you go quilt. I need to make a label for it.And I 'm planning to embroidery a small heart motif.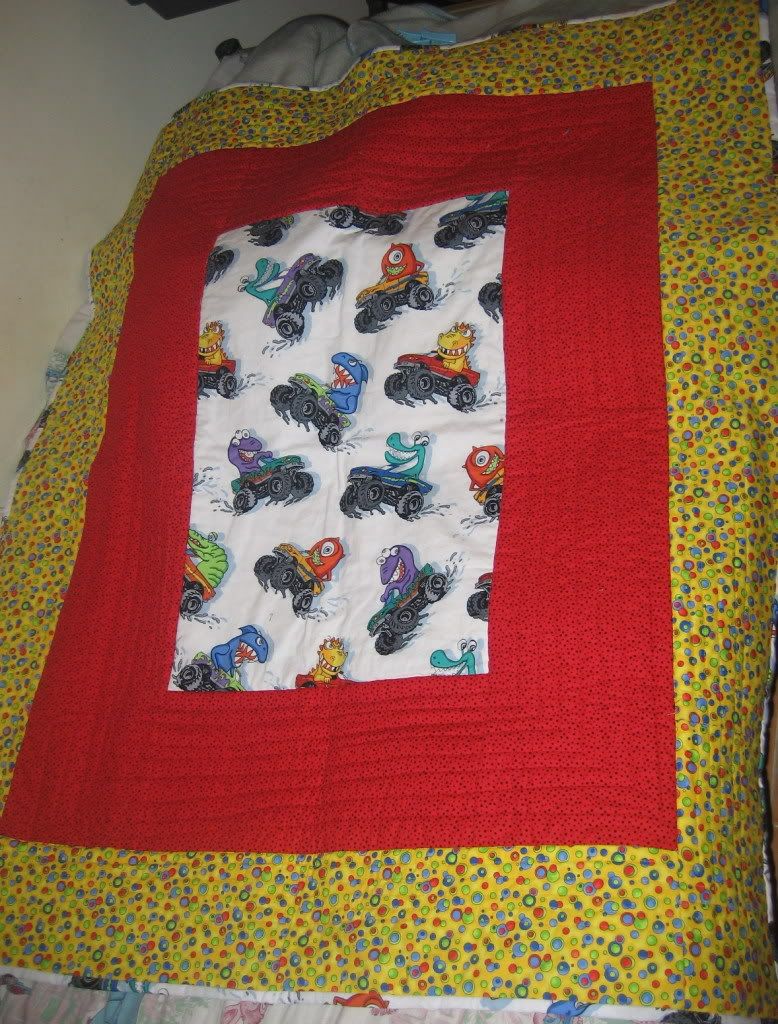 This quilt is such a fun quilt to make and I had finished the main part long back.I thought I had forgotten how to do the binding and kept putting it off. Finally with some pretty tough push from M ,for whom I made this quilt, I surprised myself remembering everything I learnt at the workshop!
M picked out the centre one eyed monster fabric.We tried to discourage him thinking he might get scared of it at night.But this guy knows exactly what he wants and gets it too!!! He is very happy with his choice.
My teacher helped me start this quilt and also showed me how to go about it .She loved the centre panel so much as to think that my little guy has better choice of fabric than me!
ahem!
She also suggested i make it a reversible quilt. So I have used two different kind of fabric for the front and back.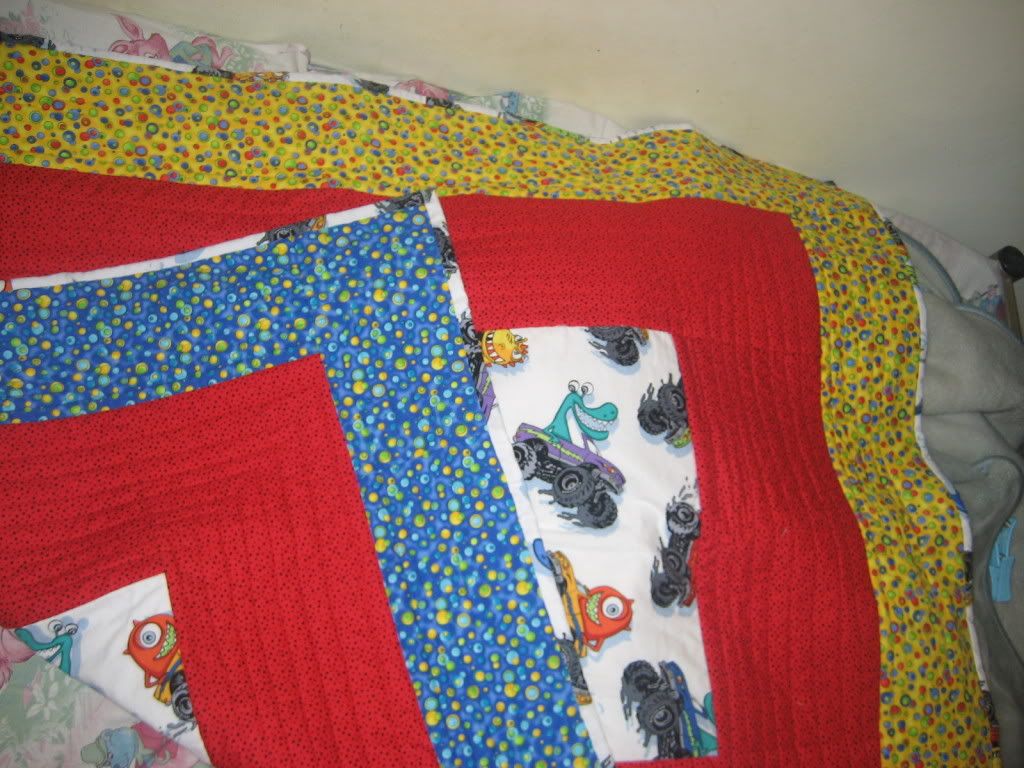 Yellow for front and blue for the back. I love the blue and red combo a lot more than the red and yellow
rowdy fellow
colour combo.
This is a kid size quilt.I had wanted to make it a large enough so he wouldn't outgrow the size.Unfortunately I didnot have the sense to buy enough fabric, so the obvious happened and I ran out of fabric.Hence the kid size. I am glad that atleast I had enough to get it done this size.Right now it covers him up nicely.
I have not mastered free motion quilting yet, so I just stitched in straight lines around the quilt. I am so proud that I got really good mitred corners if not perfect for this quilt. For the corners I marked 1/4" on both the sides so that was easy to know where to stop when I reached the corner.
Oh I must say I love my new machine.its fabulous!! Bernina virtusa 155.Not brand new , but really good!
Also , I really got the blind stitches to be invisble. Thats some progress you know :)
I wanted to call this quilt
'Monsters for a little monster'
, but M wanted to call it
Bubble Quilt
.So I am planning to call it
Bubble Wrap
. What do you all think? any suggestions are welcome.
The next quilt is for A , he has chosen a fabric with bikes . He has been complaining that I am taking forever to finish my quilts He has been telling that if I took so long to finish one quilt,he may start liking some other fabric and my efforts to make him a quilt with his favourite things would be a waste.Hence I should hurry up. These guys know how to blackmail me, I tell you!Dh thinks I taught them how!! Meeeean guys!!! :D
Now that I have used up all the batting I had , my next big concern is to find batting here at reasonable prices . Blow me some batting dust please!
Have been wondering about this a lot in the past couple of daysWhy is it ok for girls to play with trucks and cars and not ok for boys to play with dolls and Kitchen sets ?Is n't that gender discrimination?!