Easy Victorian Shell Mitts
Often when I come across pretty patterns online, I bookmark them and keep them on my to do list. Now this to- do list keeps growing everyday and is rather a long one.I maynot be able to make all the patterns I have bookmarked in this life time but they are all there, waiting patiently to be handmade by me :D
This pattern
has been on my to do list from the day it was published. If you 've read my blog long enough, you'd have guessed by now why it instantly caught my attention..........but ofcourse the shells !
Anyways,
when my secret pal asked me to choose yarns from Knit picks
, which was a very exciting, fun thing to do, I chose the yarn that pattern called for,with the intention of making this pattern.
Did I make the pattern , as soon as I got the yarn???.......No!.Procastination also happens to be my middle name along with several other such names.So the yarn was there , the pattern was there, I just didnot make it.Then when I was reoraganising my yarn, something, I love doing,this yarn caught my eye and on the spur of the moment, i started this pattern.
Finished them both in about four , five hours??.The reason it took even that was ,I had to answer a few 'vedy inpontan questions' like why pink feathers will not grow out of one's shoulders and no amount of flapping your hands, would turn them into wings.Not just that, I also had to answer why 'pink girl babies' can't be bought at stores and why one can't become a mermaid a la Ariel,even if they can get a costume in the store.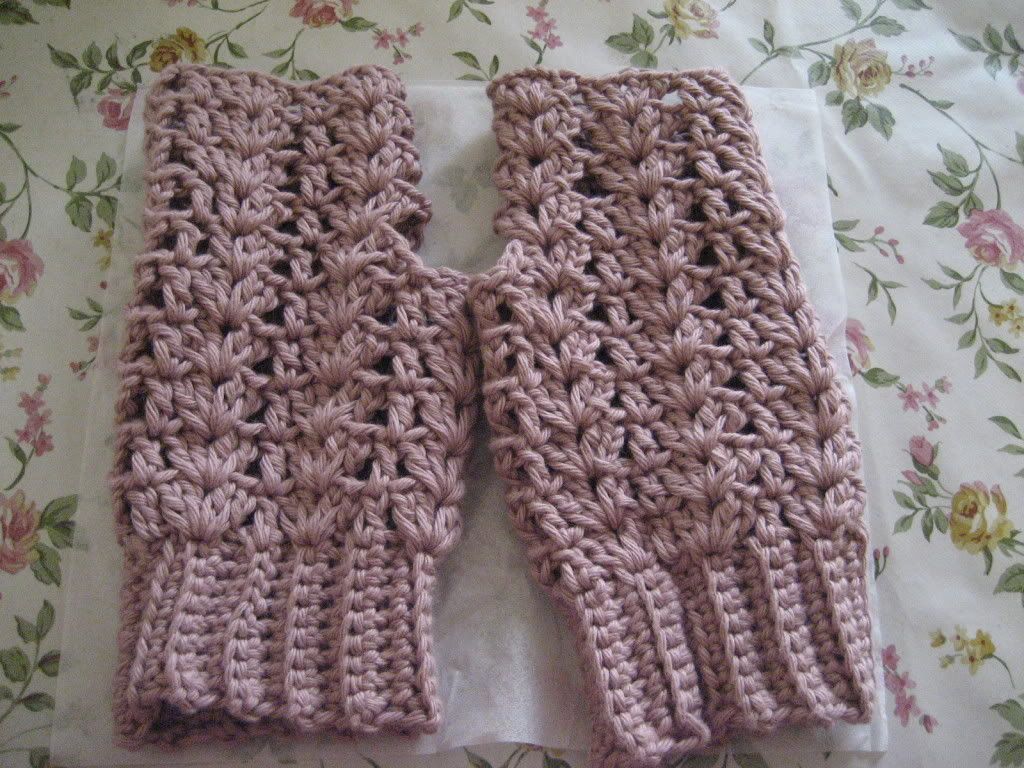 Project Details:
Pattern:
Easy Victorian Shell Mitts
Yarn :
Knit Picks Main Line 75% pima cotton , 25% Merino Wool Antique Rose colour 8282 lot 2015
Hook
: F
Tid Bits:


Since I have really small hands, I used a smaller hook


I added a couple more shells to cover my pinky , coz I like it that way.


Love how soft and cozy it is without making my hands sweat


Does feel a bit wierd to wear them, coz I've never worn mitts before


Dh says they look cool so I am keeping them ;)
In other news, we are all back to normal healthwise.It has been a bad week, however. A 's best friend's,father passed under very tragic circumstances.We knew their family too.Infact, quite well. It has been emotionally draining. . We've gone thro feelings of being shocked,scared , and total disbelief ,now that we know the reason for the death . And now I wonder how much do we really know people especially in an alien country ,where there is no kith and kin to fall back on.
Our much awaited trip to India seems to be finally getting shape.Who would have thought travel agents are capable of booking
to destinations one didnot ask for?!!
Well, dh just saved me from having to swim across the ocean to India, like I had been threatening to do, if I could not go visit family this time as well. I donot mind the postponed plans. It has all worked out for good .We are going home for Christmas, and we hope to meet the entire clan this year. Yay!!!I am crossing out the days on the calender, keeping count :D So much
shopping
to do , so little time!
I am keeping my fingers crossed that nothing goes wrong and the children don't get sick and all those bummers that could happen , you know? You guys keep your fingers and toes crossed for me ok?