It feels a lot of Christmas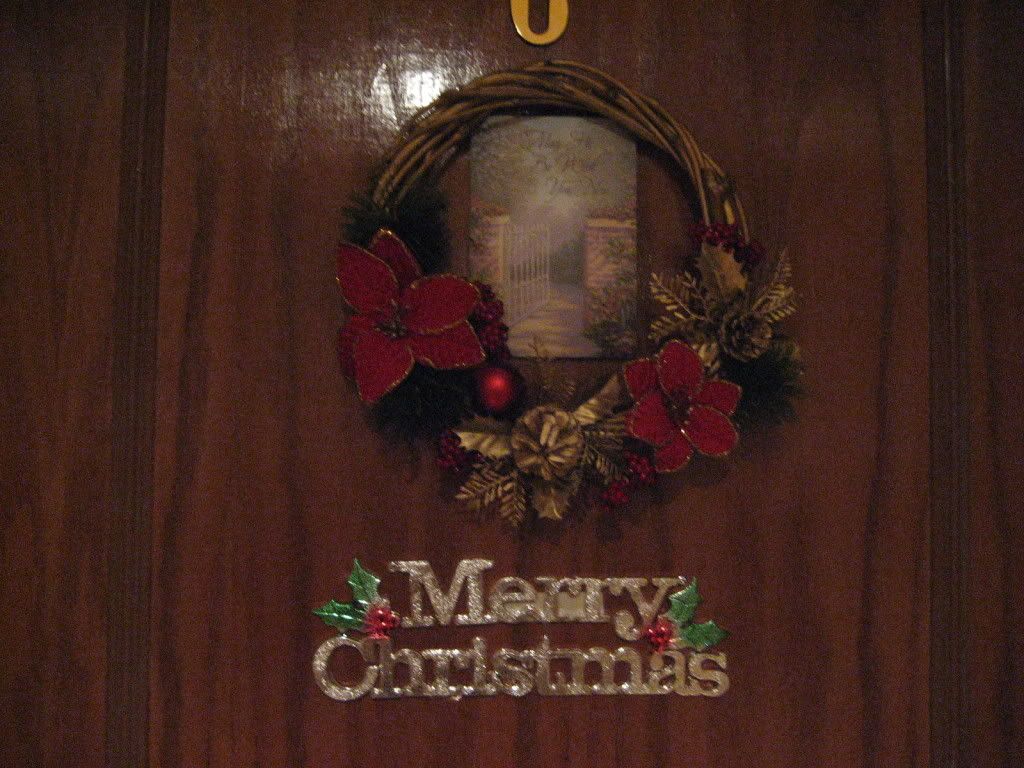 The front door
This year since we are going home for christmas, we decided to finish with the decoration before our chruch carols came by. As I started decorating the tree, it just struck me how many ornaments I had were gifts!
There were the ornaments Yasmin sent me as a surprise, that year i could not make any and they brought such joy to me, the paper Angel that sits on the top of the tree I got in an earlier Christmas swap.Then there is this pine wood ornament,that the same girl sent so I would know the scent of pinewood, some snowflakes that came with Christmas cards from friends in Crochet groups. one cute adorable clay angel which a lady sent me when I told her I could not find any Angel ornaments around here to hang on the tree.
Oh and all those snowflakes I made with dreams of covering up my Christmas tree with handmade ornaments.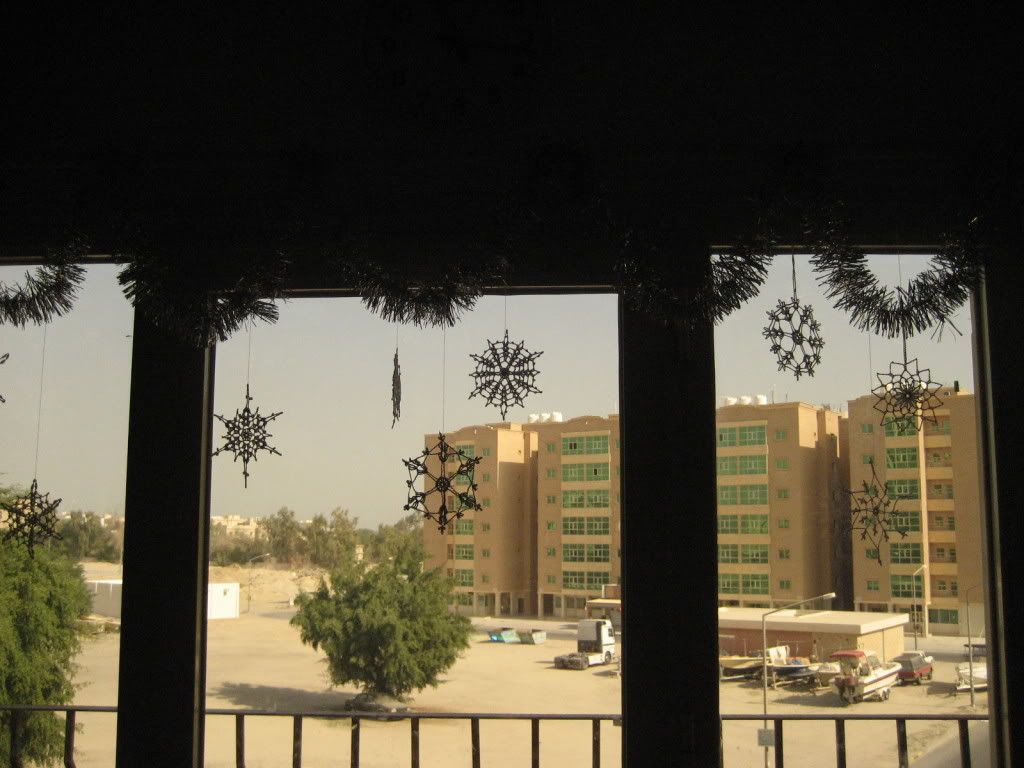 My little Manger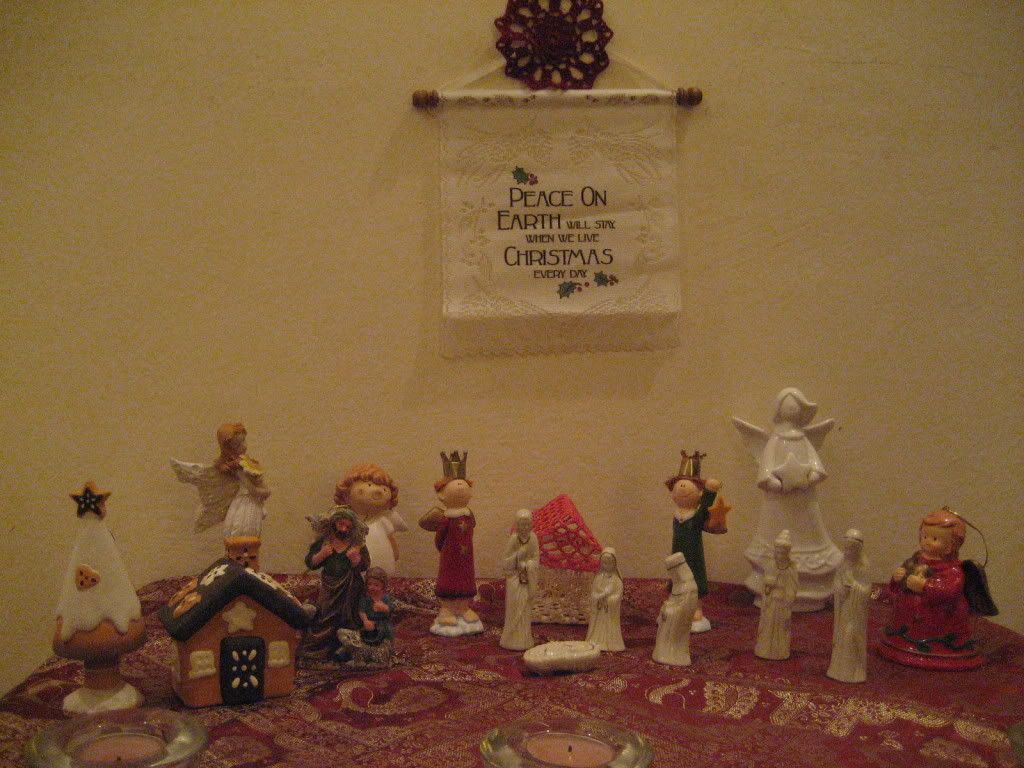 the little nativity set is one of the very first gifts from my aunt for me as I was setting up my new home . So is this crystal bowl she got me from her trip to Europe.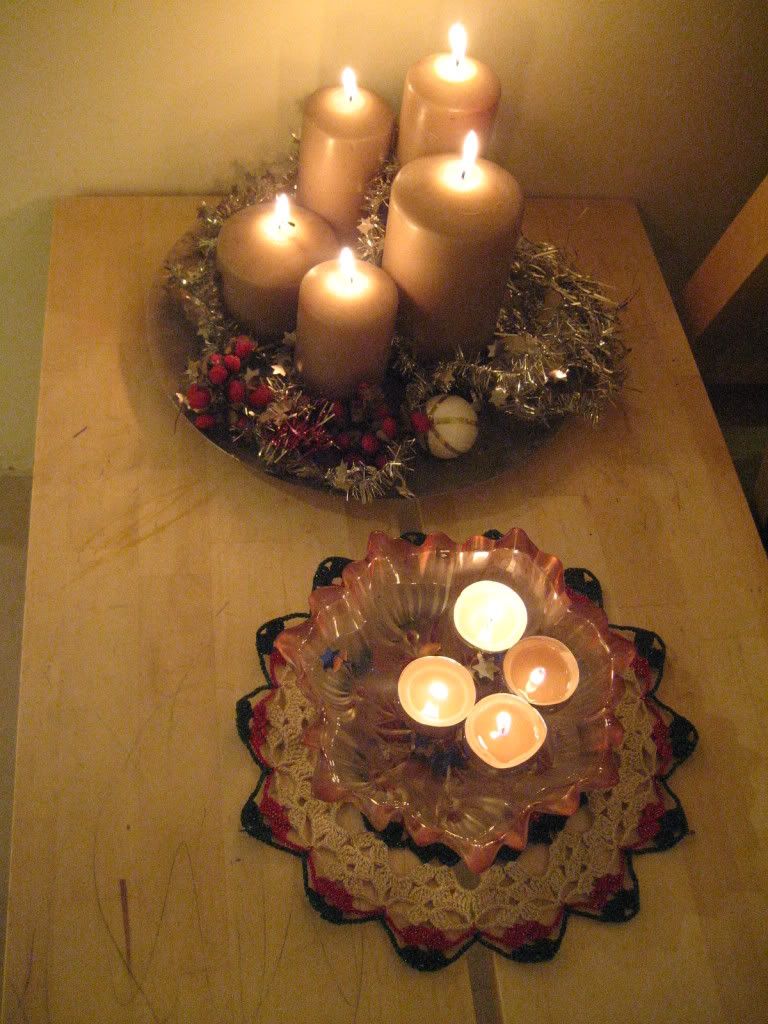 This doily was one of the first designs I learnt to make .It was free on the net from the Crochet Fantasy Website.I made one of these for both my aunts and my mom.My aunts framed it to hang on the wall.
There are so many special stuff around.this little cupboard i got made by a local carpenter out of his leftover pieces of wood. Our home decor has changed quite a bit and dh has been asking me to throw it out as this piece does not fit in anywhere else.I am not able to do that yet,so I hang it in the kitchen.I love changing my little curios in there with the seasons .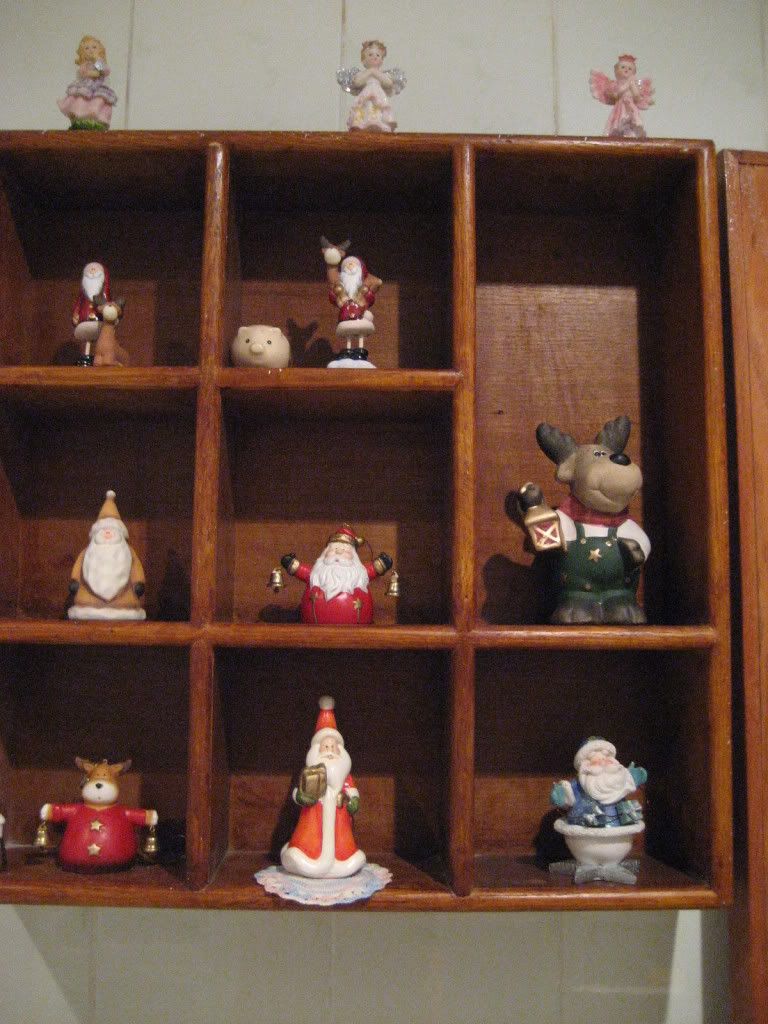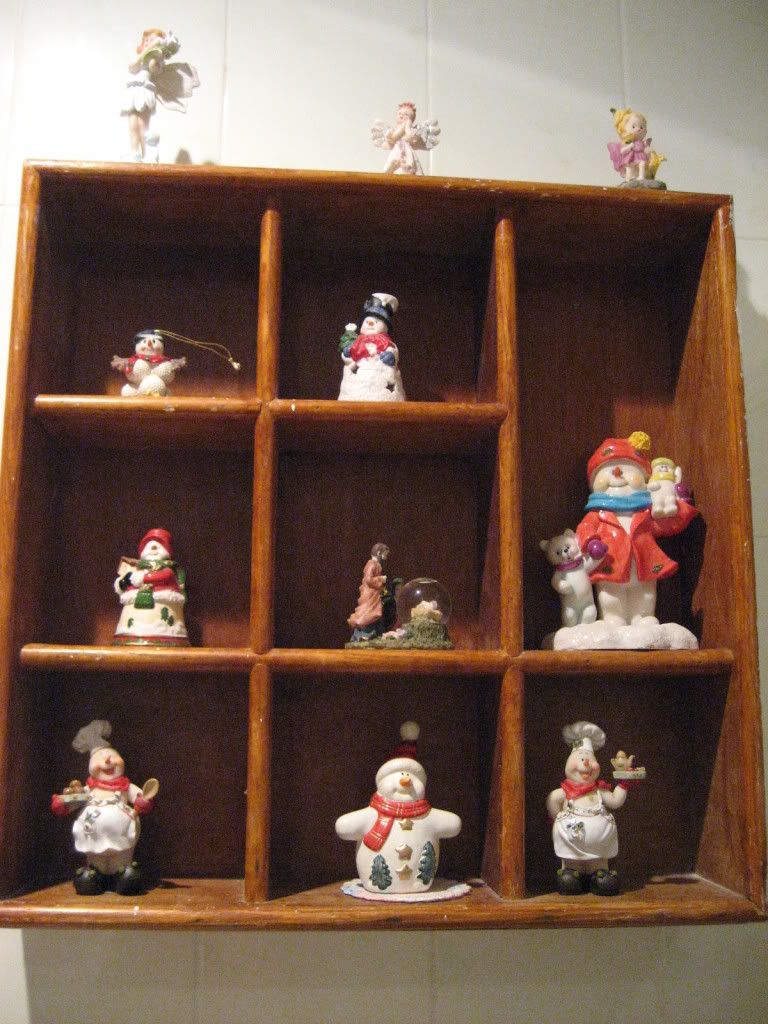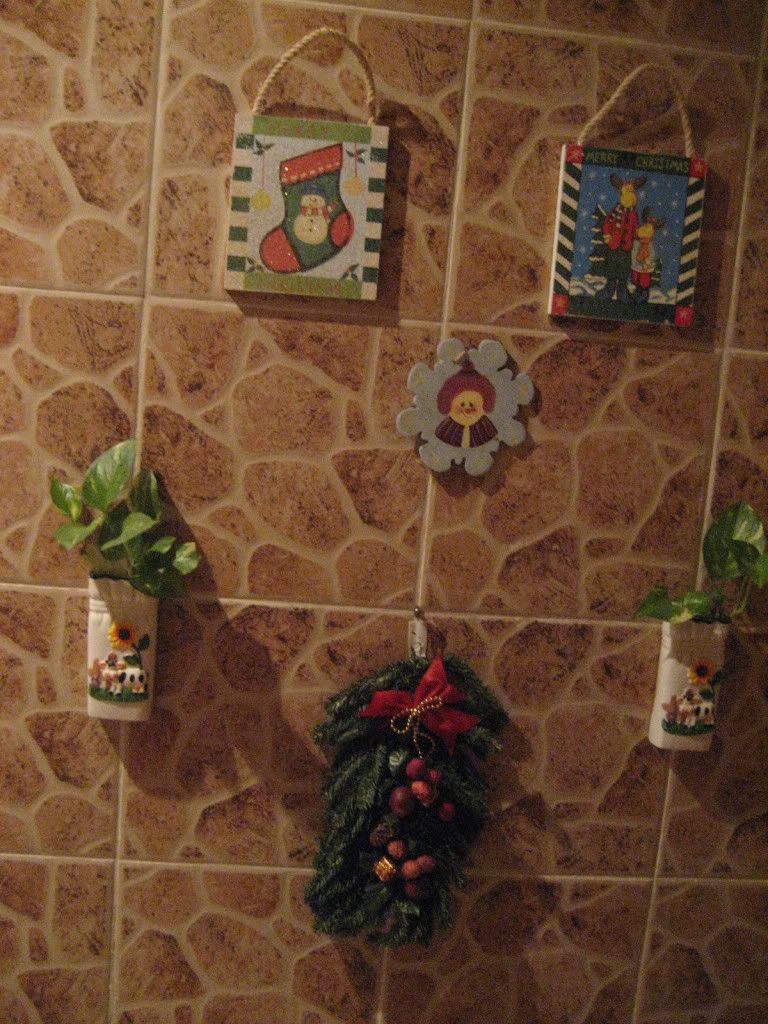 The centre snowman ornament is a wood ornament craved and hand painted ornament by another friend.There was one more too, which I think got lost when we were changing our house.
I love having them around to look at coz they are all little reminders of love and friendship from around the world .People I haven't met in real but are just as real to me.
M is so excited I decided to make a "good celebration"
A wants to know when I 'm planning to start the baking.
Our church carols came . M was most disappointed that Santa went away just giving him chocolates .He's totally confused why Santa would bring chocolates for him when he knows that he is allergic to chocolates.If he knows the kinds of toys he would like , he ought to know this simple thing rt? ah valid point!.Poor Santa has promised to bring him his gifts ,the following week at the Church Christmas tree programme for the kids.
In the meantime our building christmas potluck party came up I was supposed to make Chicken Korma.Cooking for a crowd was never my thing! Needless to say I was a nervous bundle by the time the party day came by.I even considered sneaking away someplace where no one could find me..... I was just kidding about the sneaking away part :) Well I did manage to pull it and even got some compliments on how great it tasted with veg pulav and Kerala parota. (not made by me.)©
Our landlord is building teeny tiny apartments in every little available space on the lobby of our apartment building for renting out. In spite of the lack of space and construction work going on the sides,we managed to play several games like lime and the spoon, hopping race and so on .Fun times.
this is going to be my last post before I leave on my vacation.
See y'all in the New Year
Merry Christmas and Happy New Year Everyone.