Broccoli Omelette
My children love eggs but don't like to eat broccoli. Given the nutritional benefits of Broccoli, I am always anxious for them to eat atleast a little . So I came up with this recipe to get them to eat broccoli .Its very simple and tasty too.They like the colourful omelette.Most importantly gets them to eat broccoli !
Ingredients:
1 small broccoli (broken into florets)
1 small onion (chopped finely)
1 small green chilli (chopped finely)
4 eggs
a few sprigs corriander leaves (finely chopped)
Salt and pepper.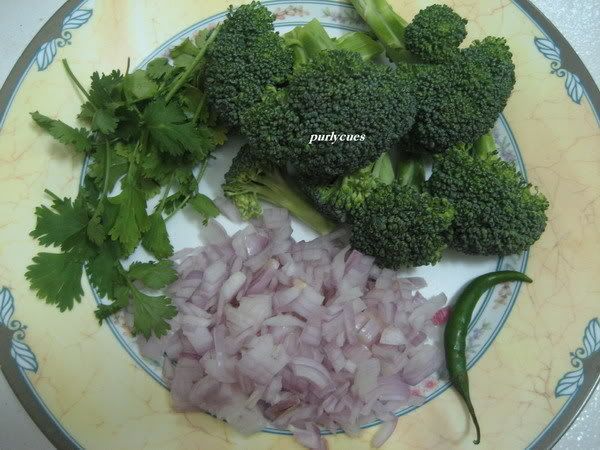 Preparation:
Put the broccoli flowerets in a pan of boiling hot water. Add salt.Cover and keep.When they change colour,(approx 10-15 mins)drain off the water.This helps to get rid of small bugs that may be hiding in the florets and also slightly cook the broccoli florets. Beat eggs till fluffy.Add salt and pepper and keep aside.
Method:
Now put the blanched florets into a food chopper,and chop them finely.
Place a sauce pan over stove,pour a little oil ,add chopped chilli pieces, chopped onion and saute till onion turns pink

.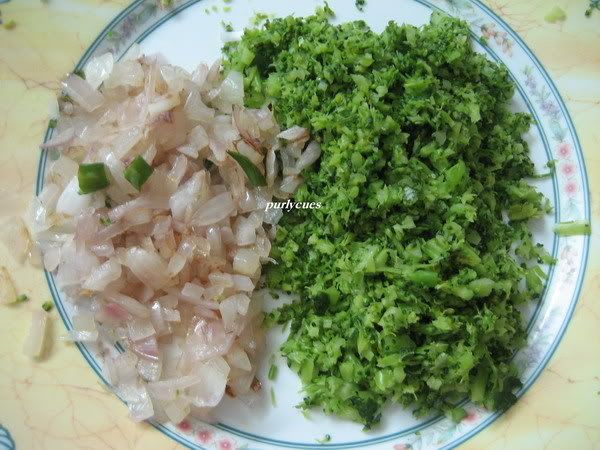 Allow to cool slightly and mix all the ingredients into the beaten eggs.Mix well ,check for salt.Pour a big spoonful on a greased saucepan.
Allow to set.When firm,turn over to the other side.
Cook till both sides are done.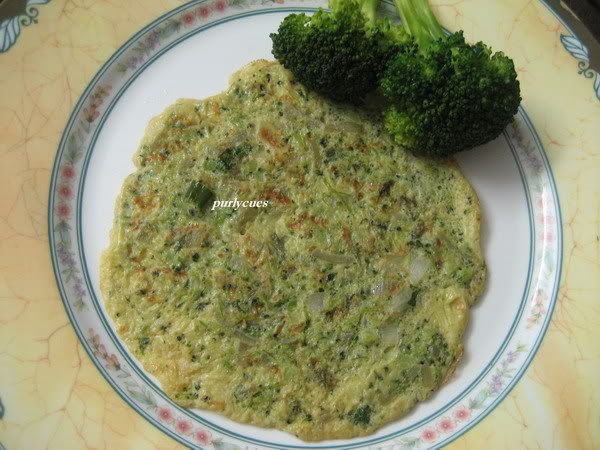 Enjoy!!!! ;)

cookbook scribbles :

when giving this omelette to little kids, remember to pick out the chili pieces .