Cantonese Fried Rice.
A walk in the long stretches of green paddy fields, against the backdrop of lofty mountains and coconut trees; cool breeze_ laden with the fragrance of the wet soil and the paddy fields_blowing through the hair , caressing the cheeks ;the lively banter, the hustle bustle of the harvest season;celebrating the first family meal of the new harvest ;the aroma of freshly boiled rice are just a few of my favourite childhood memories.
Rice is such an integral part of our lives that I can't even begin to imagine what we ,south Indians would do without it.Where I come from,we have food made out of rice for breakfast , lunch and dinner .Rice is such a versatile grain that it goes with almost every ingredient and the variety of dishes made from it is mind blowing.
The Cantonese fried rice is a One dish Meal as you don't really need any side dish to go with it.Once the preparatory work is over,it is very easy to make.
It tastes wonderful with the Chicken in Garlic Sauce.
I learnt this recipe from my aunt, who is my other mother. Made this at home recently to celebrate the first wedding anniversary of my brother and my sister-in-law.
Ingredients
11/2 cups Basmati Rice
1 green chili (chopped finely)
10 pods garlic (chopped into thin strips)
1 Cup chopped mixed vegetables(button mushroom, ,corn,peas,beans, carrot all boiled)
1 small bunch spring onions( white and green parts chopped seperately.)
1/2 cup chicken( 2 chicken breasts ,boiled with salt , pepper and shredded)
1/2 cup shrimp(marinated with soyasauce,salt and pepper and fried. )
1 bottle capful Soysauce
Salt and pepper to taste.
2 eggs,beaten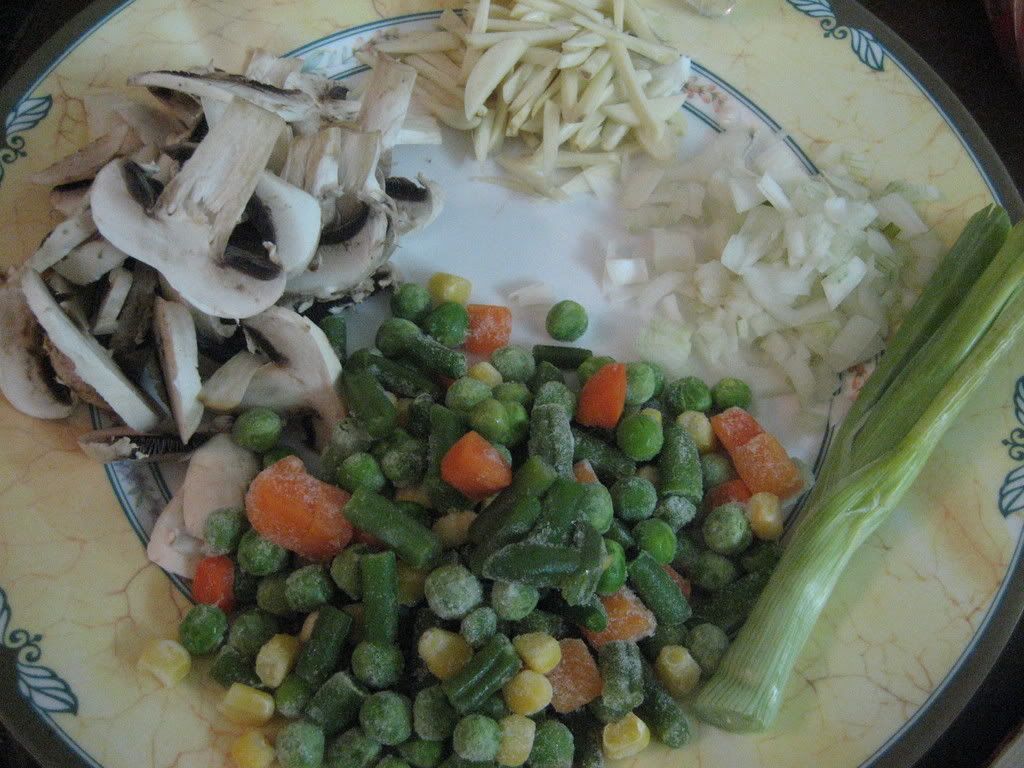 Method:
Boil rice to 3/4th, drain and spread in a basin.Mix one tsp butter and keep aside.In a wok,pour 2tbsp oil , add thebeaten egg and stir till done.Keep aside.Add chopped white part of spring onions ,green chillies and garlic.Saute till pink.Add the chicken, prawns,vegetables,Soyasauce.Saute for a minute.Add Rice and Mix all the ingredients well.Stir fry for a couple minutes more.Sprinkle the green part of the spring onions.Serve with Chicken in Garlic Sauce
.(the recipe is right below)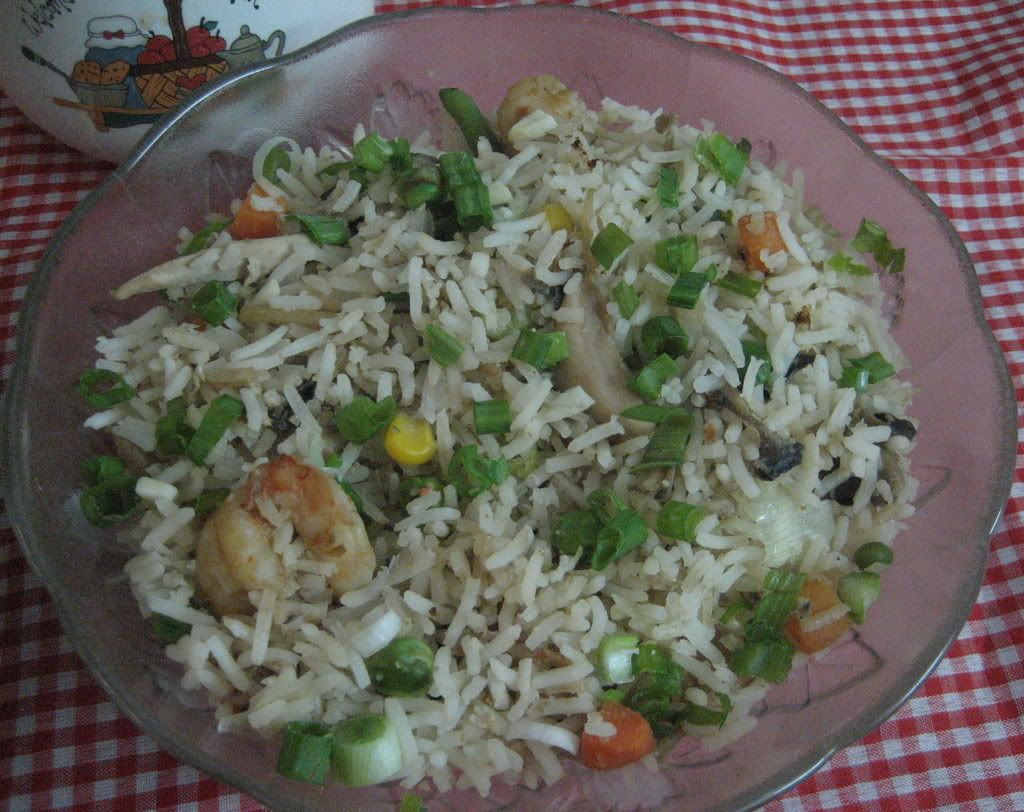 Cook book scribbles

:
I donot add ajinomotto to my chinese dishes and they taste just fine.