Seraphina Shawl
This shawl has been on my To -List for so long. After several frustrated and failed attempts to make it, I decided to forget about it and live in peace. I tired to forget about it and tried to live in peace with it. No luck.
I really can work myself into a OCD , sometimes when I cannot get some thing rt
.
I blame  my grandmom for this .You see ,she told me of this story of a King named Bruce of Ireland or somewhere and the Spider that inspired him with its perseverance to build a web so many times that it is set in stone on my brain, arrggh what to do???? what to do???
Every time I looked at a finished shawl, someone made, I would take the hook and yarn and try it................ get totally frustrated by the fourth row and throw the thing off.............and the saga went on and on till I saw
this link
and
this chart
and  thought maybe, I still had hope.
So I tried it........... with the help of the chart, I started and finished in the same day!That 's the magic of charts  I tell you! You can never make me  appreciate a written pattern after this!
I have no idea  why this picture turned out like this.....You all have to tilt your heads  just a wee  bit to the right to view this ....... Now your heads are tilted to the rt? Sorry about that people !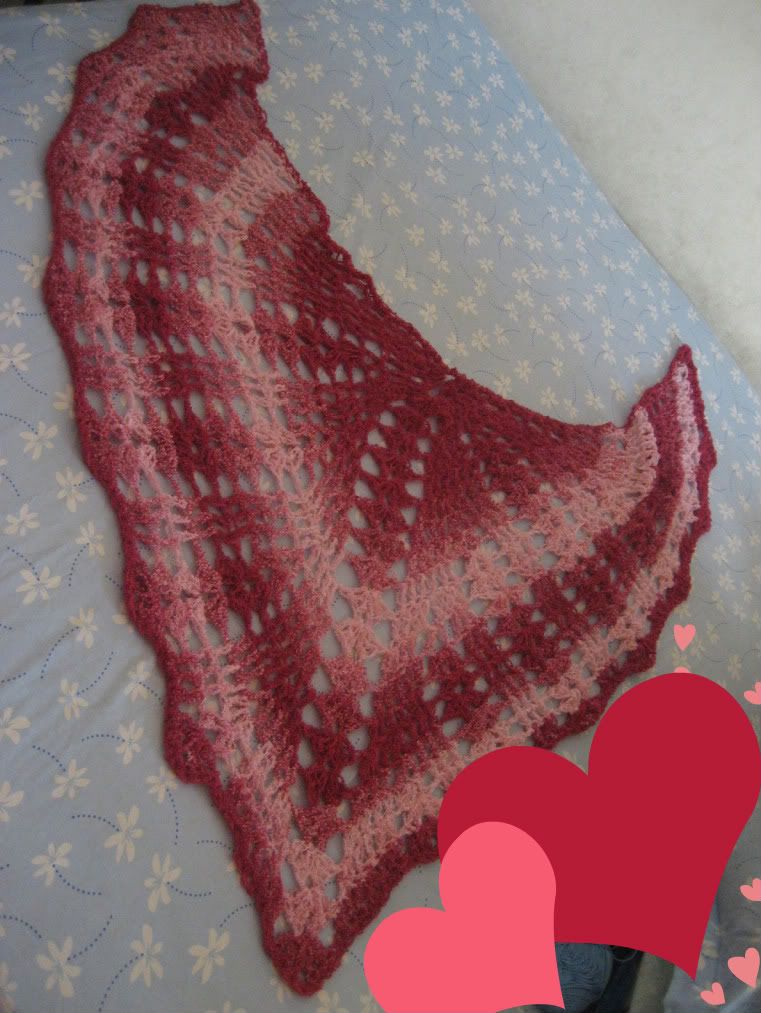 here you go ,a better way to look at it........the close up and true colour
the full view
Project DetailsHook
: N
Susan Bates
Yarn
: Jo-ann Sensations Rainbow Boucle  Pink  Art#08035990; colour # 207; Lot#102 ; 88% Acrylic 12% Nylon
Pattern
:
Seraphina Shawl
Tidbits
:


I fell in love with the pattern because of the lovely colour graduation that this yarn gives


When I was gushing about how beautiful it looked ,  Deneen ROAKed it to me


Intially it was hard working with this yarn,  about a couple of rows, then it was a breeze


I absolutely love the final look of the shawl


Now I can live or die in peace :p


M 's final assessment is almost over. Although he didnot go to school for most part of the year, he did quite well as I was teaching him at home. I had to go  with him everday he went to school and brought him back as soon as his tests got over. While I was there,I could see why he hated school so much.
It was heart wrenching to see my little boy cowering in his corner, eyes brimming over with tears threatening to roll down any minute. I am glad this year is almost over , just a few more days.  How I wish there was an homeschooling option.
Never mind the fact if I would lose my head completely, if I did that as well.
At home, he is this little vivacious creature,and talks nonstop often mispronouncing words and using his wild imagination to come up with words he cannot remember
and just because I am this terrible pathetic mom who wants to suddenly hang on to the long past baby days, and thinks this last baby of hers is not allowed to grow
I make no attempt to  correct him, simply because, its not only is  so cute   to hear him say Helkumis for Hercules, Laabel for Rubber and Cloudways for Airways, Tamilnadan for Tamil,  Velikels for Vehicles , Aminals for animals in his  little Hewey voice, but also because we get to laugh behind his back 
bad bad parents!!!
.........more specially coz my  big BOY A  so disappointed me with his  proper pronunciations and perfect  speech during  his baby days.